'RuPaul's Drag Race' 101, brought to you by the season 10 queens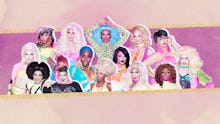 For many of us, RuPaul's Drag Race isn't just a television show.
It's a world, an entire universe even, as cinematically rich as Marvel or DC Comics. It's a language, with new words added all the time — season 10's Vanessa Vanjie has already given "cookies" new meaning after just one episode.
It's a celebration and humanization of queer culture on massive platform, one that does not banish it to the Friday night death slot. In fact, Drag Race is given the 8 p.m. Thursday time slot for season 10 (a 2016 Ad Age report and 2017 Hollywood Reporter story listed Thursday 8 p.m. to 9 p.m. as one of its five "toughest TV time slots" in terms of competition).
So yeah, it's huge. Still though, despite its march toward toward mainstream, not everyone's heard of Drag Race. So we sat down with all 14 queens competing on the new season — Asia O'Hara, Aquaria, Blair St. Clair, Dusty Ray Bottoms, Eureka O'Hara, Kalorie Karbdashian-Williams, Kameron Michaels, Mayhem Miller, Miz Cracker, Monét X Change, Monique Heart, The Vixen, Vanessa Vanjie Mateo and Yuhua Hamasaki — and had them explain what Drag Race is, as quickly as possible, to someone who's never before seen the show.
Watch below: