New national security adviser John Bolton promises Trump he wont "start any wars"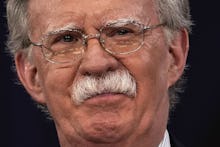 Hey there #NTA subscribers. Emily C. Singer from Mic here, taking over the reins of this newsletter from Will Drabold, who left Mic on Thursday for a new role at a media startup. I'm excited to build on the community Will has fostered, and provide you with the information and analysis you need every morning to keep up with — and better understand — the relentless political news cycle.
A little about me: I've been a political reporter for seven years now, mostly covering Congress and congressional elections. Since Donald Trump's election, I've branched out to reporting on and analyzing the moves of the executive branch.
I tweet a LOT (mostly about politics, but also about my toy poodle, Wally). And election nights are like my version of the Super Bowl, so I can't wait to guide you through the upcoming midterms.
Today's question is: What kind of coverage would you like to see in the morning NTA newsletter? And what are your thoughts about how I laid out today's newsletter?
Please email me at trumpsamerica@mic.com with your thoughts.
And want to receive this as a daily email in your inbox? Subscribe here.
Here is what's happening in Trump's America:
• Reactions pour in after Trump ousted national security adviser H.R. McMaster and replaced him with military hawk John Bolton
About last night: Another one bites the dust.
The White House announced Thursday evening that national security adviser H.R. McMaster is resigning and will be replaced by military hawk John Bolton.
Bolton is the ideological opposite of Trump.
Trump has touted an anti-foreign intervention stance and was especially vocal against the Iraq War, which he has called a "disaster" and a waste of money and lives. Bolton, on the other hand, served in former President George W. Bush's administration and helped justify the decision to invade Iraq in 2003.
"We are confident that Saddam Hussein has hidden weapons of mass destruction and production facilities in Iraq," Bolton said in 2002. This, of course, turned out to be untrue.
Bolton has more recently defended the decision to invade Iraq, saying in 2015, "I still think the decision to overthrow Saddam was correct."
Most recently, Bolton backed a pre-emptive military strike against North Korea.
"Given the gaps in U.S. intelligence about North Korea, we should not wait until the very last minute," Bolton wrote in a Wall Street Journal op-ed in February titled "The Legal Case for Striking North Korea First."
"[Waiting] would risk striking after the North has deliverable nuclear weapons, a much more dangerous situation," he added.
Bolton is such a military hawk that he even had to promise Trump that "he wouldn't start any wars," CNN reported.
Republicans were mostly quiet about the staff change. But Democrats are up in arms over Trump's selection of Bolton.
"John Bolton as National Security Advisor is the worst case scenario," Tommy Vietor, former National Security Council spokesman under former President Barack Obama, tweeted. "Trump campaigned against the disastrous decision to invade Iraq, but Bolton remains unrepentant and is now arguing to strike North Korea. Disaster."
Democratic Members of Congress expressed similar concerns.
"John Bolton's answer to seemingly every foreign policy crisis is war. He supported the catastrophic invasion of Iraq in 2003 and continues to publicly call for first strikes on Iran and North Korea," Sen. Ron Wyden (D-Ore.) tweeted.
"The last thing our country needs is another belligerent ideologue beating a constant drum of war," Wyden added.
Today in Trump's America: Is anybody home?
All is quiet in the White House, as Trump and first lady Melania Trump jet down to Palm Beach, Florida, to spend time at Mar-a-Lago, a.k.a. the Winter White House.
But it's a Friday, so the possibility of yet more staff upheaval in the White House lingers.
NBC News reported Thursday that Trump mused about firing chief of staff John Kelly and not filling the key White House role. Instead, Trump would reportedly run the White House as he ran his business empire, having his top aides report directly to him.
Politico also reported that two of Trump's cabinet members — Veterans Affairs Secretary David Shulkin and Housing and Urban Development Secretary Ben Carson — are on thin ice over inappropriate use of government funds.
Capitol Hill happenings: "A pox on both Houses — and parties"
The Senate passed a $1.3 trillion government funding bill early Friday morning, averting a shutdown hours before the midnight deadline. The bill funds the government through September.
However at 9 a.m. Friday morning — after lawmakers left town — Trump issued a surprise veto threat, possibly throwing a wrench into the plans and making a shutdown possible.
"I am considering a VETO of the Omnibus Spending Bill based on the fact that the 800,000 plus DACA recipients have been totally abandoned by the Democrats (not even mentioned in Bill) and the BORDER WALL, which is desperately needed for our National Defense, is not fully funded," Trump tweeted Friday morning.
Trump, for his part, helped tank a bipartisan compromise bill last month that would have given him border wall funding in exchange for codifying the Deferred Action for Childhood Arrivals program into law.
The House had passed the funding bill on Thursday. But Sen. Rand Paul (R-Ky.) threatened to block the bill's passage in the Senate, as he was furious about both the cost of the bill and the short time frame lawmakers were given to read it before voting.
"Shame, shame. A pox on both Houses — and parties," Paul tweeted Thursday, the first in a long tweetstorm about provisions in the bill that he viewed as a waste of funds. "$1.3 trillion. Busts budget caps. 2200 pages, with just hours to try to read it."
Paul eventually relented after reading the entire bill and publicizing the provisions he took issue with.
"Victory for conservatives today is that all of America now knows what a budget busting bomb this bill is," Paul tweeted late Thursday.
And the rest: Ex-Playboy model Karen McDougal details her affair with Trump
Former Playboy model Karen McDougal gave a no-holds-barred interview with CNN Thursday night, spilling intimate details about her alleged affair with Trump over a decade ago and apologizing to first lady Melania Trump about the relationship.
McDougal told her story, despite having been paid by the parent company of the National Enquirer — which bought the exclusive rights to McDougal's story for $150,000 but never published it, effectively silencing her.
McDougal, who said she is a Republican and voted for Trump, told CNN she had a 10-month-long affair with Trump in 2006, when his youngest son Barron was just a few months old.
Many of the details of McDougal's relationship sound familiar, in that they track closely with those coming from porn actress Stormy Daniels, who also says she had an affair with Trump around the same time.
Like Daniels, McDougal said she had unprotected sex with Trump.
"You know, we talked about it right beforehand," McDougal said about using protection. "He was starting to and then he's like, 'I don't like these things [condoms].' And you know, we discussed things. Did you do, blah, blah. We were just honest with each other and we didn't use any."
Finally, McDougal ultimately apologized to Melania Trump for the alleged affair.
"What can you say except, I'm sorry," McDougal said. "I'm sorry. I wouldn't want it done to me. I'm sorry."