Trump issues 11th-hour veto threat against government funding bill, possibly leading to a shutdown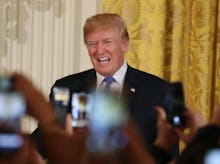 President Donald Trump on Friday issued a surprise veto threat against a government funding bill Congress had passed just hours earlier — increasing the possibility that the government may shut down when the current funding bill expires at midnight.
"I am considering a VETO of the Omnibus Spending Bill based on the fact that the 800,000-plus DACA recipients have been totally abandoned by the Democrats (not even mentioned in Bill) and the BORDER WALL, which is desperately needed for our National Defense, is not fully funded," Trump tweeted Friday morning, referring to the Deferred Action for Childhood Arrivals program, which allows undocumented immigrants brought to the U.S. as minors to live and work in the country.
Trump, however, personally ended DACA in 2017.
And when the Senate was close to passing a bipartisan compromise bill that would have codified DACA into law as well as given Trump money for his pet border wall project between the United States and Mexico, Trump personally helped tank it, demanding lawmakers make further cuts to legal immigration.
It's unclear whether Trump's veto threat is serious.
White House spokesman Raj Shah would not elaborate on Trump's threat in a statement to Fox News.
"The president's comment is the comment," Shah said. "There is nothing to add to it."
On Thursday, a number of top White House officials were touting the spending deal and promising it would pass.
"With $1.6 billion included in the spending bill that arrives on President Trump's desk tomorrow, we're going to start to build that wall," Vice President Mike Pence said at an event in New Hampshire. "We're doing it."
White House budget director Mick Mulvaney also told reporters in a briefing that Trump was set to sign the $1.3 trillion spending deal, which funds the government through September.
"Let's cut right to the chase: Is the president going to sign the bill? The answer is yes," Mulvaney said.
Many members of Congress have already left town since passing the bill, including a large group who headed to the funeral of Rep. Louise Slaughter, the New York Democrat who died a week ago after a fall.
It's unclear whether they'll be summoned back.
If Trump vetoes the bill and Congress cannot pass a fix before the midnight deadline, Trump would shoulder the blame for what would be the third shutdown in 2018.
The government already shut down once in January over a DACA fight, and again for a brief period in February, when Sen. Rand Paul (R-Ky.) filibustered another short-term spending bill.
March 23, 2018 10:32 a.m.: This article has been updated