Craigslist no longer features personal ads thanks to a new anti-sex-trafficking bill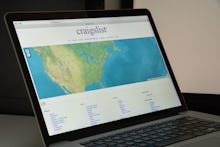 Get ready to miss missed connections: Craigslist has removed its personal ads section in response to the Senate's passing of H.R. 1865, a bill aimed at holding websites accountable for the promotion or facilitation of online sex trafficking.
The Senate voted Thursday to pass the bill, after which Craigslist moved quickly to rid the site of personal ads including "casual encounters," which people would use to connect with others for the purposes of casual sex.
Craigslist addressed the removal of personal ads in a post:
U.S. Congress just passed H.R. 1865, "FOSTA", seeking to subject websites to criminal and civil liability when third parties (users) misuse online personals unlawfully.
Other sites have taken similar steps, with Reddit banning subreddits like r/escorts.
In this regard, Craigslist and Reddit are examples of great behavior. Other social networks can't exactly say the same. For example, Twitter's online harassment issues are well-chronicled. Despite outcry, however, the platform has not done much to seriously combat harassment.
As for Facebook, CEO Mark Zuckerberg took his time in admitting Facebook isn't just a tech company but also, in a way, a media company. The service has been accused of allowing the spread of fake news during the 2016 presidential election.
Craigslist's immediate response to the passing of H.R. 1865 could hint at more government regulation of online spaces to come. As social networks continue to test the boundaries of what's allowed, such regulation may be welcome by these sites' users.