'RuPaul's Drag Race' Season 10, Episode 1: Vanessa Vanjie Mateo exit interview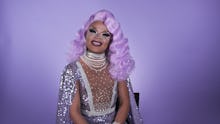 Unfortunately, someone's gotta be the first. On Thursday night, early fan favorite Vanessa Vanjie Mateo — the drag daughter of season three and All Stars season one's Alexis Mateo — was the first queen to sashay away on the premiere episode of RuPaul's Drag Race season 10.
And while she joins a pantheon of first-eliminated queen greats (including season one's Porkchop, season two's Shangela, season eight's Laila McQueen and season nine's Jaymes Mansfield), it's nonetheless a difficult blow for a queen as easily likable as Vanjie.
"I don't want to go. I worked really hard," Vanjie told Eureka O'Hara backstage during Untucked. "I have a lot of people waiting for me to do good," she added, pleading with O'Hara, who had no control over her fate but nonetheless consoled her. "You feel connected to my fat ass," O'Hara joked.
But a lackluster lip sync is a lackluster lip sync, especially when performing a Christina Aguilera track — the first time that's been done on the show — in front of Aguilera herself. Obvious nerves combined with a low-energy performance made Vanjie's fate clear early on — but to be fair, Kalorie Karbdashian-Williams did nothing in the vicinity of slaying the house down.
A speechless Vanjie simply mouthed, "I love you" to RuPaul before kissing the competition goodbye one last time. "To go home is the worst," she said backstage, as tears streamed down her painted face.
Mic spoke with Vanjie following the premiere about the elimination and what's next for her drag career.
Mic: Sister, sister.
Vanessa Vanjie Mateo: Evan! What the fuck? You were supposed to call me when I won, not when I got eliminated.
I wish it weren't so, but that's just how the cards were stacked.
VVM: I know, I know.
How are you feeling today?
VVM: I'm OK. Yesterday I was kinda going through it, because I was scared to go on social media and I just didn't want to be upset. Not upset like mad, more upset like crying. To me, I look at this as just the beginning of the race. I have a lot more to prove. That's my main focus.
Where did you watch the show?
VVM: I was in Orlando, Florida, with Roxxxy Andrews at Southern Nights. There [were] people crying in the audience! People were going through it, especially during Untucked. A lot of people were like, "Your look wasn't the best, but it was not the worst." They didn't like [Monet's] sponge. They thought the sponge should have been in the bottom.
Fans — and past contestants — seem to have really fallen in love with you, and quickly. How does it feel to receive that adoration?
VVM: A lot of the girls from past seasons have been reaching out, telling me that I'm very different than a lot of the other girls [who] were eliminated first. Fans have even been making a bunch of memes of me coming out of a box.
Speaking of fans, have you spoken to your drag mother, Alexis Matteo?
VVM: She was sad for me. She was like, "Don't feel like you let me down. Do you know how many people audition for this show and you made it on your first try? You have so many opportunities coming up." Basically giving me some words of encouragement and letting me know that it's going to be OK.
Let's talk about Untucked for a moment. You nearly broke down in tears talking to Eureka O'Hara. Were your surprised how vulnerable you became in that moment?
VVM: When I first met Eureka in the work room, I was really drawn to her, probably because we're both so similar. We're both loud. We're both funny. You rarely ever see us upset. And for some reason I just felt like I needed to speak with her, and I just started crying. And that's all genuine. Nothing was planned. So I wasn't shocked that it happened, I was just in the moment.
During that talk, you expressed not wanting to let down your family, in particular your mom (your actual mom, not your drag mom), who you said is a fan of the show. What is her reaction to your elimination?
VVM: She was like, "I don't get it. I don't understand." And I had to explain, "Listen, it is what it is. It happened." Because my mom was really upset. She didn't want to see me go home. She was saying, "How could you go home? You're so funny." But you know, that's how a mother is. To my mom I'm Beyoncé, literally.
You and I previously kiki'd about our shared love of Christina when you stopped by Mic earlier this week. What was that experience like, not just being judged by her but spending time with her backstage?
VVM: I will say this: If I had to go home, I was glad it was with Christina there, and I hope she remembers me as that crazy bitch that kicked off her shoe during the lip sync. Meeting Christina, I felt like everything was full circle for me. Like if you see Untucked, I was the one [who] jumped on her and was asking her all the questions. How you're interviewing me, I was interviewing her.
Will you continue to watch?
VVM: I am! I'm going to be reviewing and reading and roasting and toasting the girls, and I'm going to give them a piece of my mind every episode. And I'm going to be telling them why I should have been on there and what I would have been doing. And I'm probably going to be showing my runways.
Who are you rooting for this season now that you're gone?
VVM: Eureka, we speak all the time. I'm really close with Mayhem; we speak every day as well. And Asia, I love [her] a lot as well.
What's next for Vanessa Vanjie Mateo?
VVM: I'm planning on doing too much. I'm going to be at DragCon on the microphone selling cookies, screaming and yelling and hooting and hollering. I'm going to come out with a vogue track. I'm gonna be death-dropping and splitting and all kinds of bullshit [in] a city near you. I'm going to do it all. I'm going to make sure my presence is known.