3 US states pushed highly restrictive abortion bans this week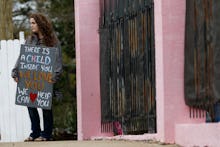 State lawmakers have ramped up their attacks on abortion in recent days, as Mississippi, Ohio and Kentucky introduced or passed restrictive bans, which are already beginning to face legal challenges.
On Monday, Mississippi instituted the strictest abortion law in the nation, signing into law a ban on abortions after 15 weeks, which replaces the state's previous 20-week ban. The new law has exemptions only in cases of the mother's health being at risk, or if the fetus has health problems making it "incompatible with life" outside the womb. The law does not exempt pregnancy resulting from rape or incest.
"We are saving more of the unborn than any state in America, and what better thing can we do?" Mississippi Gov. Phil Bryant said Monday.
But Mississippi's new 15-week ban might not be the nation's toughest law for long.
On Thursday, the Kentucky state Senate approved a ban on an abortion procedure performed for pregnancies at or after 11 weeks by a vote of 31-5. The bill will go to the state's House of Representatives — which passed its own version of the 11-week ban on March 12 — to approve the changes made by the Senate. The potentially banned second-trimester procedure, which is called "dilation and evacuation," accounts for 16% of all abortions performed in Kentucky. Abortions after 11 weeks are more rare; according to the National Academies of Sciences, Engineering and Medicine, 50% of abortions are performed in the first seven weeks of a pregnancy and 90% are within the first 12 weeks. Medication-based abortions are used for abortions up to 10 weeks.
Meanwhile, Ohio took up even more restrictive measures, as Republican lawmakers introduced a bill on Monday that would ban abortion outright, and would not exempt cases of rape, incest and saving the mother's life. The bill would make an "unborn human" a person under Ohio's criminal code regarding murder and manslaughter — meaning that a person getting an abortion could be charged with a crime. Pro-abortion rights advocates noted that doctors performing abortions could be charged with murder, resulting in a prison sentence or even the death penalty.
The move marks the latest action against abortion rights by Ohio lawmakers, who have passed legislation restricting abortions 20 times since 2011. Their efforts have faced some challenges. Gov. John Kasich vetoed a six-week abortion ban in 2016 over fears it would be ruled unconstitutional, and imposed a 20-week ban instead, while a federal judge temporarily blocked an Ohio law banning abortions in cases of Down syndrome on March 14.
The Mississippi ban has already faced a similar legal challenge, as the state's only clinic that performs abortions filed a lawsuit within hours of the bill becoming law. As a result, a federal judge temporarily blocked the law from going into effect for 10 days on Tuesday, and will consider whether to continue blocking the law until the legal proceedings are complete.
The Mississippi ban — along with the Kentucky and Ohio bills, should they become law — may not hold up in court; similar bans have been struck down in such states as Alabama, Kansas and Oklahoma. In 2016, the U.S. Supreme Court ruled against a 12-week abortion ban in Arkansas and a six-week ban in North Dakota. Though the Supreme Court upheld a federal ban criminalizing second-trimester abortions in 2007, its ruling in Roe v. Wade — which is supported by 70% of Americans — determined that the decision to terminate a pregnancy in the first trimester, which lasts 12 weeks, is solely up to the pregnant person.
These new bans, however, could be a way for Republicans to return abortion to the Supreme Court under the conservative administration of President Donald Trump. The president has frequently opposed abortion rights — even though he spoke in favor of reproductive rights prior to his political career — and vowed during the campaign to put "pro-life justices on the court."
Trump has already appointed federal judges who oppose abortion rights to courts around the country, including Supreme Court Justice Neil Gorsuch. Republicans in Congress have also ramped up their anti-abortion attacks under Trump, voting on a 20-week abortion ban in January — which failed — and attempting to add abortion restrictions to Affordable Care Act legislation that's currently under consideration.
"Anti-choice extremists from the Ohio Statehouse to the White House are lining up their dominoes to topple Roe v. Wade and punish those who seek or provide abortion care," NARAL Pro-Choice Ohio executive director Kellie Copeland said in a statement on the proposed Ohio ban. "What we are seeing today is the culmination of 45 years of maneuvering from anti-choice forces."
A new study released by the Guttmacher Institute has shown that these bans may not even have an effect on decreasing the rate of abortions.
The study, which found that the number of abortions has "declined significantly" in developed countries since the early 1990s, determined that abortion rates in countries with the most restrictive abortion laws are approximately the same as countries with the least restrictive policies — 37 and 34 abortions per 1,000 women, respectively. Though legal abortions in the U.S. are "safe and effective," a separate study by the National Academy of Sciences determined, abortions in more heavily restricted areas are far less safe.
"Highly restrictive laws do not eliminate the practice of abortion, but make those that do occur more likely to be unsafe," the Guttmacher Institute noted. "The path toward safer abortions is clear: The benefits of expanding legal grounds for abortion begin to accrue as soon as women no longer have to risk their health by resorting to clandestine abortion."