Who's Sorry This Week? Mark Zuckerberg, a former Playboy model and other public apologies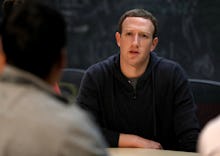 Another week, another deluge of apologies.
In "Who's Sorry This Week?" Mic tracks down the most prominent mea culpas from celebrities, companies and other public entities trying to make amends for their various screw-ups.
This week had no shortage of apologies, so let's get right to it.
Mark Zuckerberg is sorry a Trump-affiliated data analytics firm accessed all your personal information
The biggest story in tech right now revolves around Facebook and Cambridge Analytica, a political data analytics firm that accessed private information on more than 50 million Facebook users — without their permission — in the time leading up to the 2016 presidential election. According to Facebook CEO Mark Zuckerberg, Facebook had removed the app in question in 2015 and ordered Cambridge Analytica to delete the data. The company falsely told Facebook the data was destroyed, CNN reported Wednesday.
Cambridge Analytica, which was closely aligned with Donald Trump's presidential campaign, promised people like Steve Bannon — Trump's former chief strategist — that it could influence election results by exploiting the data it collected from Facebook. This has raised questions about unregulated influences on our political system and whether platforms like Facebook should be under more scrutiny.
Facebook has since suspended the data firm from its platform, but the damage has been done, leaving Zuckerberg — who has long been criticized for being lax on matters of user privacy — to run cleanup duty.
"This was a major breach of trust, and I'm really sorry that this happened," Zuckerberg said on CNN Wednesday. "We have a basic responsibility to protect people's data, and if we can't do that, then we don't deserve to have the opportunity to serve people. Our responsibility now is to make sure this doesn't happen again."
Former Playboy model Karen McDougal is sorry for allegedly having an affair with Donald Trump
CNN's Anderson Cooper on Thursday interviewed former Playboy model Karen McDougal, who has claimed she was in a romantic relationship with Donald Trump in 2006, according to the Wall Street Journal.
McDougal is speaking out after years of relative silence, which a lawsuit she filed alleges was a conscious effort by American Media Inc. to "catch and kill" her story because of how it would reflect on Trump. McDougal said she was promised AMI — run by Trump friend David Pecker — would run a story about her and Trump's alleged relationship, but the story never ran. She also said her deal with AMI, for which she was paid $150,000, forbade her from discussing the story publicly.
AMI has denied she was required to keep silent, saying, "McDougal has been free to respond to inquiries about her relationship with Mr. Trump since 2016," according to the WSJ.
In the CNN interview Thursday, Cooper asked whether McDougal had any regrets about the alleged affair, which reportedly took place while Donald Trump and Melania Trump were already married.
"The only regret I have about the relationship I had with Donald was the fact that he was married," McDougal told Cooper. "If he weren't married, I wouldn't have any regrets because he treated me very kind — he was very respectful as I told you. It was a good relationship while it happened. Now, had I known at the time there were supposedly all these other women, no, I wouldn't have been in the relationship. But I didn't know that at the time. So no, no regrets, except the fact that he was married."
Cooper then followed up by asking if McDougal wanted to say anything to Melania Trump, in case she was watching.
"What can you say, except I'm sorry," McDougal said. "I'm sorry. I wouldn't want it done to me. I'm sorry."
Washington, D.C., council member Trayon White Sr., is sorry for suggesting a powerful Jewish family controls the weather
On March 16, Washington, D.C., council member Trayon White Sr. posted a video to his Facebook page in which he complained about the sudden snowfall, alleging it was the result of "climate control." The alleged perpetrators? The Rothschilds, a powerful Jewish family of financiers that have repeatedly been the subject of anti-Semitic conspiracy theories, according to the Washington Post.
"Man, it just started snowing out of nowhere this morning, man," White said in the Facebook video, which has since been deleted, per Newsweek. "Y'all better pay attention to this climate control, man, this climate manipulation. And D.C. keep talking about, 'We a resilient city.' And that's a model based off the Rothschilds controlling the climate to create natural disasters they can pay for to own the cities, man. Be careful."
White apologized in a tweet Sunday, saying that he "did not intend to be anti-Semitic ... I have spoke [sic] to leaders and my friends at Jews United for Justice and they are helping me to understand the history of comments made against Jews, and I am committed to figuring out ways [to] continue to be allies with them and others."
New York politician Christine Quinn is sorry — we think? — for calling gubernatorial candidate Cynthia Nixon an "unqualified lesbian"
After months of rumors, actress and activist Cynthia Nixon — best known for her role as Miranda Hobbes in Sex and the City — announced Monday that she's running for governor of New York.
Nixon, who has long been a critic of current New York Gov. Andrew Cuomo, is running on a platform of progressive causes such as public education, LGBTQ equality, reproductive rights and issues related to New York City's much-derided subway system.
In response to Nixon's announcement, out lesbian Christine Quinn, who unsuccessfully ran for mayor of New York in 2013, dredged up a long-standing conflict between her and Nixon. Nixon opposed Quinn's run for mayor at the time and instead supported Quinn's opponent, Bill de Blasio, who went on to win the election, according to Time.
In an interview with the New York Post published Tuesday, Quinn called Nixon an "unqualified lesbian." (Nixon, who is married to a woman, has said she prefers not to label her sexuality, but has previously used the word "bisexual" to describe herself, according to the Huffington Post.)
"Cynthia Nixon was opposed to having a qualified lesbian become mayor of New York City," Quinn told the Post. "Now she wants an unqualified lesbian to be the governor of New York. You have to be qualified and have experience. She isn't qualified to be the governor."
In a series of tweets, Quinn expressed regret for the way she expressed herself in that interview, but didn't explicitly apologize.
"To be clear, Cynthia Nixon's identity has no bearing on her candidacy and it was not my intention to suggest it did," she said. "I want to be clear about that. I would never, EVER, criticize someone because of their identity. ... The real point I am trying to make is that qualifications matter and records matter. I do not believe she has the qualifications or the record."