With the hiring of John Bolton, is Trump assembling a war Cabinet?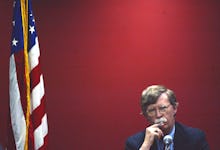 It was, by many accounts, a baffling move when Donald Trump on Thursday announced his plans to replace national security adviser H.R. McMaster with John Bolton — the extreme foreign-policy hawk who, in many respects, embodies many of the policies the president has said he opposes.
Trump ran for president on a platform of "America First," claiming the United States would "not go abroad in search of enemies" under his leadership. Bolton, by contrast, has long been a staunch interventionist. Trump ran on the notion that he had always been against the Iraq War, which began 15 years ago this week. Bolton, on the other hand, is to many the mustachioed face of that war — a man who apparently still believes the U.S. invasion of Iraq was a good idea.
"I still think the decision to overthrow Saddam was correct," Bolton told the Washington Examiner in 2015. "I think decisions made after that decision were wrong, although I think the worst decision made after that was the 2011 decision to withdraw U.S. and coalition forces."
That Trump looked beyond the mustache and picked Bolton suggests he may be abandoning those aspects of his platform and shifting toward a more aggressive foreign policy. This may be one that could have significant implications for the delicate situations in North Korea and Iran, experts said in interviews with Mic on Friday.
"[Trump] is a guy who ran for office saying he was against the Iraq War," Stephen Miles, director of Win Without War, a progressive foreign policy advocacy program of the Center for International Policy, said in a phone interview. "He's now hiring one of the biggest champions of that war. He's completely abandoning any pretense of opposing these stupid and pointless and endless wars America's in."
The move to hire Bolton — Trump's third national security adviser in 14 months — comes just a couple weeks after the president said he will meet with North Korean leader Kim Jong Un for high-level diplomatic talks that could help de-escalate nuclear tensions on the peninsula.
Bolton has dismissed such negotiations, instead arguing in favor of conducting a first military strike on North Korea — an even more direct call for the U.S. to use force than the so-called "bloody nose" strike McMaster had apparently been considering in recent months.
"It is perfectly legitimate for the United States to respond to the current 'necessity' posed by North Korea's nuclear weapons by striking first," Bolton wrote in a Wall Street Journal op-ed Feb. 28.
According to experts, Bolton's placement in the national security advisor role could derail the potential diplomatic U.S.-North Korea negotiations before they even begin.
"Bolton over and over again has demonstrated he doesn't have much patience, nor respect, for the diplomatic process," Alexandra Bell, a former State Department official during the Obama administration and senior policy director at the Center for Arms Control & Non-Proliferation, said in a phone interview Friday.
Bolton's hiring also further imperils the Iran Deal, which Trump again hinted at tearing up in recent days. Bolton, like Trump, has been a harsh critic of the landmark 2015 agreement brokered under the Obama administration, which the president has described as an "embarrassment" to the U.S.
"All signs point to the president tearing up the Iran Deal," Miles said. "He is taking what was a diplomatic victory and turning it into a crisis. It's beyond stupid."
Bolton — a creature of the Beltway "swamp" Trump claimed to loathe so much during his campaign — served as the U.S. ambassador to the United Nations under former President George W. Bush. Trump has previously criticized members of that administration, arguing their actions in Iraq disqualify them from providing input on current foreign policy issues.
But Trump will apparently make an exception for Bolton, despite the voluptuous signature mustache he evidently despises. Bolton, like Trump, has been hostile toward the U.N. He has also been critical of former President Barack Obama, former Democratic presidential candidate Hillary Clinton and the U.S. intelligence community's conclusion that Russia intervened in the 2016 election to help boost Trump's chances. And, of course, he's been a regular contributor to Fox News — which the president watches religiously.
The question now is whether Bolton's hiring, coupled with the recent nomination of former CIA director Mike Pompeo to replace Rex Tillerson as secretary of state, will increase the prospect of Trump getting the U.S. into a new military conflict. Miles said he believes Trump is assembling a war Cabinet.
"The president is putting in place people who don't have any faith in diplomacy," he said.
The two new additions to Trump's foreign policy team could also jeopardize denuclearization efforts in North Korea and Iran.
"I think between Pompeo and Bolton, you're seeing the rise of people [who] have long been skeptical, if not downright hostile, to diplomatic efforts to deal with nuclear crises," Bell said. "If I'm observing this as the North Koreans or the Iranians, I'd have a hard time thinking this administration was really prioritizing diplomacy over military action.
"It looks like the Iran deal is in jeopardy even more so than it was a week ago," Bell added, "and diplomacy with North Korea again seems a distant prospect."
In a statement Thursday, Bolton accepted Trump's appointment and said he "looks forward" to working with Trump to "make our country safer at home and stronger abroad."
Trump announced Thursday that Bolton will officially take over for McMaster on April 9.