Unreliable sources: A look at the worst media moments this week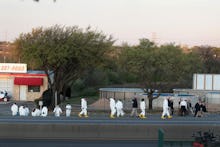 This week was dominated by the news of national security adviser H.R. McMaster's departure from the White House after President Donald Trump repeatedly denied that McMaster was on his way out. Shocking undercover videos detailing the workings of the shadowy data analytics firm Cambridge Analytica, which once enjoyed deep ties to Facebook, was also a major headline, as was the deadly conclusion of a fatal month-long series of bombings in Austin, Texas.
Meanwhile, the political media has been counting down the days until a much-anticipated Sunday evening interview with porn actress Stephanie Clifford, who claims she had a months-long affair with Trump. Throughout the week, some reporting and commentary this week was rife with mischaracterizations or flat-out falsehoods.
Here's a look at some of the more cringe-worthy takes and media mistakes from this week.
The Atlantic's new opinion section hire is "an affront to decency"
On Thursday, the Atlantic announced a slew of new hires as part of "Ideas," a new opinion and commentary section for the Washington-based magazine. Among the new hires is Kevin Williamson, a longtime columnist at the right-wing magazine National Review and a favorite columnist among conservatives.
Williamson's hire is yet another example of a major news organization hiring a never-Trump Republican to supposedly represent conservative thought. In a column announcing his departure from National Review, Williamson wrote that he was "very much looking forward to raising a brand new kind of hell" at the publication.
And raise a brand new kind of hell Williamson has. The writer's history of disparaging transgender people, black people and his extremist view that women who get abortions should be executed quickly resurfaced following the announcement of his hire.
In 2014, Williamson reported from East St. Louis, Illinois, a poor, mostly black Illinois suburb, where he concluded that "the only people … doing anything like legitimate and productive semi-private-sector work are white guys in pickup trucks." The piece opens with Williamson comparing a black child to a "primate" and a "three-fifths-scale Snoop Dogg," which at the time was widely derided as being offensively racist. At the time, Williamson defended his choice of words, saying that the people who were criticizing him were the real racists.
A few months prior, Williamson wrote a lengthy piece detailing his disgust with Laverne Cox, an actress, trans woman and activist most famous for her role on the show Orange Is The New Black. In the article, Williamson repeatedly misgenders Cox as a "he," describes sex-reassignment surgery (an official scientific and medical term) as "genital amputation and mutilation" and describes Cox and the medical community as "delusional."
The hire was widely denounced.
"Congrats to @TheAtlantic for hiring Kevin Williamson, the 'women who have abortions should be executed' guy. #Provocative," Upworthy senior writer Parker Molloy tweeted.
"By hiring Williamson, the Atlantic is sending the message that mocking, degrading and dehumanizing trans people falls within the realm of acceptable discourse," Slate writer Mark Joseph Stern tweeted. "I am beyond disappointed in @JeffreyGoldberg. This is an affront to decency, tolerance and the LGBTQ community."
"Williamson has really nailed the [William] Buckleyite tradition of espousing virulent racism while convincing some liberals that he's got something important to say," Splinter editor Paul Blest wrote in an article about the hire.
It's unclear whether these opinions represent the "force of intellect and acuity of insight" that the Atlantic editor-in-chief Jeffrey Goldberg was referring to in an announcement of the hires.
"While publishing diverse viewpoints has always been core to the Atlantic's mission, we have strict standards for how these viewpoints are expressed in our pages," a spokesperson for the Atlantic said in a statement. "We expect all of our writers to adhere to those standards."
Media outlets humanize two suspected murderers in lengthy profiles
On Tuesday, a 17-year-old student at Great Mills High School in Southern Maryland shot at schoolmates using his father's gun before being killed in an exchange of gunfire with an armed school resource officer. One of the victims was Jaelynn Willey, a 16-year-old girl who had previously been in a relationship with the suspected shooter. Willey died Thursday night after being taken off life support.
The shooting has shaken the small Maryland county and has again underscored an ongoing national debate about how to protect students from gun violence in American schools.
Police have not released a motive for the shooting, but police have signaled that they are looking into the prior relationship between Willey and the suspected shooter, which has also spurred conversation about the number of women who are killed by current or former partners in the U.S.
In the Associated Press, though, the murder-suicide was chalked up to actions taken by a "lovesick teen."
"Tuesday's school shooting in southern Maryland that left the shooter dead and two students wounded increasingly appears to be the action of a lovesick teenager," the first sentence of the AP's article, which was picked up by ABC News, Time and other news outlets, read. (The original AP article appears to have been updated to remove the phrase.)
The framing was criticized and denounced.
"It's incredibly irresponsible for @AP to describe the Maryland school shooter a 'lovesick teen,'" freelance journalist Rossalyn Warren tweeted Thursday. "It romanticises the shooting by fitting the 'if she can't be with me, she can't be with anybody' mentality, and it doesn't call it what it actually is: domestic violence."
It wasn't the only instance this week of the media taking care to humanize a white male suspected of violence. Mark Anthony Conditt, the 23-year-old suspected of terrorizing Austin, Texas, in a nearly month-long package bombing spree, was described as "quiet and shy" in a Washington Post article that was headlined: "Austin bomber was frustrated with his life, authorities say."
A Wall Street Journal article about Conditt, in which Conditt was described as "the life of the party," was headlined: "Austin Bombing Suspect: Home-Schooled College Dropout Known for Dry Wit."
Conditt's bombs killed two people and injured four others, and some of the bombs "were left in predominantly black and Hispanic neighborhoods of East Austin," according to the Post. No motive has been determined in the case, but Conditt, in a lengthy video recording on his phone recovered after his death, described himself as a "psychopath" who was not sorry for his actions.
Both the Post and the Journal were rightly barraged with criticism for their stories.
"The press hasn't just been more sympathetic to the Austin bomber than to unarmed black people killed by police, they've done more humanizing of him than they have of THE INNOCENT BLACK PEOPLE HE ACTUALLY MURDERED," tweeted Full Frontal with Samantha Bee writer and correspondent Ashley Nicole Black.
The framing, to many critics, was evidence that the media goes out of its way to humanize white males accused or convicted of crimes, something it doesn't do for other people.
"These descriptions are a privilege often afforded to white male criminals — from Dylann Roof, the Charleston church shooter, who was described as a 'once-quiet, bright boy' by the Wall Street Journal, to Colorado theater shooter James Holmes who was referred to as 'quiet' and 'irritable' by ABC News," ThinkProgress associate editor Elham Khatami wrote in an article criticizing the "double standard" about the media's framing of Conditt.
What makes this even worse is that these same outlets have not provided the same depth of humanizing information about the victims of these acts of violence. Not nearly as many words have been devoted to Willey, who was killed in Maryland, or about Anthony Stephen House or Draylen Mason, who were killed in Austin.
YouTube fails to handle hoax videos — again
Politico Florida reporter Marc Caputo on Friday reported a wild story about a woman who was once hired to star in a number of hoax videos smaring the sheriff of Broward County, Florida, who was elevated to national attention following the February mass school shooting in Parkland, Florida.
The woman, who has remained anonymous out of fears that she would be harassed or otherwise retaliated against, said she was paid $25 for each of three videos through the freelancing service Fiverr to make videos falsely accusing Scott Israel, the sheriff of Broward County, Florida, of impregnating her and forcing her to get an abortion. The woman does not recall who hired her to film the videos.
Israel, a Democrat who has advocated for more gun control, is loathed among conservatives, and has already been the subject of a number of far-right attacks. In a continued smear campaign, these videos were picked up by far-right conspiracy sites like the Gateway Pundit and viewed thousands of times.
The woman told Politico that she did not recall who hired her to film the videos, and she "expressed shock" when she was told that the videos were being used for a smear campaign, Caputo reported. But despite her best efforts — and the efforts of her lawyer, as well as representatives for Israel — the three videos have remained up on YouTube.
"YouTube's parent company, Google, has refused her efforts and those of Israel to take them down — an intransigence that illuminates how new media firms have become platforms for fake news and take little corporate responsibility to combat it," Caputo wrote.
This, of course, is not a problem that is limited to YouTube. Facebook, which is already facing heavy criticism over its relationship with the shadowy data analytics firm Cambridge Analytica, has regularly struggled to deal with fake news and conspiracies on its platform, as has Twitter, which also has a massive harassment problem.
But YouTube, which has more than a billion users, has been a major player in amplifying conspiracy theories. The platform already faced backlash when conspiracy videos alleging that Parkland school shooting survivors were crisis actors flourished on the website. A February report from the Wall Street Journal found that YouTube's recommendations system pushes viewers toward extreme, ultra-partisan and conspiracy-laden content.
YouTube CEO Susan Wojcicki said in March that YouTube would provide information from Wikipedia countering videos about conspiracy theories. It's unclear how that might have countered a small-but-damaging conspiracy such as the one Politico uncovered.
Whether one likes it or not, people use YouTube every day and rely on it as a place to find news. The lack of action on this particular video highlights that YouTube has much to figure out in order to curb this prolific problem.