"Don't worry, we've got this": Thousands call for gun control in student-led March For Our Lives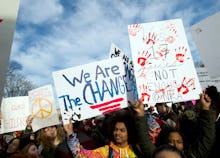 Massive crowds descended on Washington, D.C., and cities across the country Saturday to call for gun reform as part of the student-led March For Our Lives protest.
Survivors of the deadly Marjory Stoneman Douglas High School shooting last month led the charge, demanding lawmakers pass "common sense gun laws" in 800 rallies around the world.
"We must stand beside those we've lost and fix the world that betrayed them," Cameron Kasky, a survivor of the shooting, told a crowd of thousands in the nation's capitol. "We the people can fix this."
"Don't worry, we've got this," Kasky added.
Thousands of demonstrators filled the streets of Washington, New York City, Chicago and across the nation to call for gun control, carrying signs demanding politicians "protect kids, not guns."
Students have led the renewed calls for gun control, with the Parkland survivors directly challenging politicians like President Donald Trump who take money from the National Rifle Association.
"We are going to make this the voting issue," David Hogg, one of the most outspoken Parkland students, said in Washington Saturday. "We are going to make sure the best people get in our elections to run not as politicians, but as Americans, because this is not cutting it."
"Let's put the USA over the NRA," he added.
In a brief statement, the White House praised the students for "exercising their first amendment rights" and cited recent actions taken by the Trump administration, including a move Friday toward banning bump stocks that allow semi-automatic weapons to function as if they were fully-automatic.
"Keeping our children safe is a top priority of the president," the White House said in its statement, according to CNN.
But students on Saturday had more sweeping demands, calling for a "comprehensive and effective bill be immediately brought before Congress" to address the gun issue, including a strengthening of background checks.
"If they continue to ignore us, to only pretend to listen, then we will take action where it counts," Stoneman Douglas student Delaney Tarr said in a speech at the Washington rally Saturday. "We know what we want, we know how to get it and we are not waiting any longer."
Emma Gonzalez, one of the most outspoken Stoneman Douglas survivors, delivered a powerful address in which she paused for several minutes — the time it took alleged Parkland shooter Nikolas Cruz to kill 17 people at the high school.
"Fight for your lives before it's someone else's job," Gonzalez said.
Demonstrators also called attention to the daily gun violence that has plagued American cities and impacted communities of color.
"We know life isn't equal for everyone, and we know what is right and wrong," Virginia 11-year-old Naomi Wadler said in a rousing speech in Washington. "We also know that we stand in the shadow the Capitol and we know that we have just seven short years until we too have the right to vote."
Yolanda Renee King, Martin Luther King Jr.'s granddaughter, also gave a speech at the Washington rally, linking the gun control movement to her grandfather's dream.
"I have a dream that enough is enough," the young King said. "And that this can be a gun-free world, period."
There was a massive police presence in Washington Saturday as students and gun control advocates began filling streets of the nation's capitol, Parkland and other American cities early Saturday, carrying signs calling for reform.
"I march because I was almost silenced," read a sign carried by Samantha Mayor, a junior at Stoneman Douglas who was wounded in the deadly shooting.
Gwyneth Bishara, a 15-year-old Marjory Stoneman Douglas student, marched in New York City with the students of Massapequa School District on Long Island who received an in-school suspension for walking out on March 14.
"Coming here today means that I can show that me and all the kids who came here today to support their schools, we can't be swayed and how we're not gonna back down until we see change," Bishara told Mic.
Tatiana Castro, a California high school student marching in Washington, D.C., described the daily fear of gun violence students live with.
"I do feel scared," Castro told Mic. "Will my school be a victim to the next school shooting?"
Brianna Provenzano contributed reporting from New York City. Kendall Ciesemier contributed reporting from Washington, D.C.
March 24, 2018, 4:57 p.m.: This story has been updated.