Major GOP donor launches gun control advocacy group as students march for change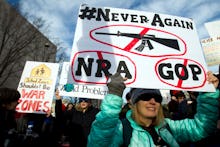 Al Hoffman Jr. — a top Republican donor in Florida and former Bush administration official — announced he is launching a gun control advocacy group Saturday as thousands in Washington, D.C., and across the nation took to the streets calling on lawmakers to put an end to gun violence.
Americans for Gun Safety Now! — which Hoffman said already has support from public officials and political donors — will seek to "eliminate bump stocks, limit high capacity magazines and armor piercing ammo, raise the national limit for all gun sales to 21 years of age, expand universal background checks and provide additional support for mental health services, while still supporting Second Amendment rights."
"Americans for Gun Safety Now! is honored to stand in solidarity with the thousands of students, including survivors of the Marjory Stoneman Douglas High School massacre, to rally for change in our nation's capital," Hoffman said in a press release.
Massive crowds descended on cities around the world in the March For Our Lives rally Saturday to demand lawmakers reform American gun laws in the wake of the shooting at a high school in Parkland, Florida, that left 17 dead.
Following the shooting, Hoffman — former President George W. Bush's ambassador to Portugal — announced that he would withhold contributions to any candidates or groups that don't support a ban on assault weapons.
"I will not write another check unless they all support a ban on assault weapons," Hoffman wrote in a February email to Republican leaders, according to the New York Times. "Enough is enough!"
Survivors of the deadly Marjory Stoneman Douglas High School shooting have led a renewed call for gun control following the tragedy, directly calling out politicians — including President Donald Trump — who have received donations from the National Rifle Association.
On Friday, Trump tweeted that he will move to ban bump stocks, which allows semi-automatic weapons to mimic fully-automatic ones.
"We will BAN all devices that turn legal weapons into illegal machine guns," Trump tweeted.
Students and their supporters Saturday are calling on lawmakers to do even more — something Hoffman said his group will work to support.
"These students represent our next generation of leaders," Hoffman said. "Our new advocacy group is dedicated to supporting their courageous efforts by calling on Congress to pass a six-provision legislative package to make schools and the entire nation safer."