Sen. Tim Kaine questions whether Trump's pick for NSC could even get a full security clearance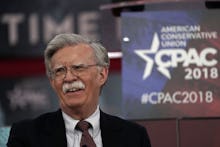 President Donald Trump named John Bolton as his new national security adviser Thursday, prompting widespread criticism of Bolton and his hawkish war policies. While Bolton won't have to be confirmed by the Senate, his problematic past could pose a threat to his security clearance, one Democrat suggested Sunday.
Sen. Tim Kaine (D-V.A.) criticized Bolton's appointment Sunday on CNN's State of the Union, following posts on Twitter in which Kaine said Bolton was "dangerous for America and the world." Calling Bolton a "disastrous pick," Kaine suggested that Bolton may face trouble getting a security clearance in the White House, citing a 2013 video Bolton filmed for the Russian gun rights group the Right to Bear Arms.
"These kinds of contacts raise real questions in my mind over whether he could get a full security clearance or not," Kaine said about the Russian video. "We've already lost one national security adviser, Michael Flynn, because he was lying about contacts with foreign governments and had to be let go. I think that, although the Senate doesn't get a vote to confirm the national security adviser, I have many many questions, not only about John Bolton's philosophies, but about his contacts with Russia and potentially other governments."
According to NPR, Bolton appeared in the 2013 Russian video at the request of then-National Rifle Association President David Keene and was informed it was for the Russian legislature. In the video, Bolton advocates for the Russian people to adopt Second Amendment-style gun laws to their Constitution.
"Thank you for this opportunity to address the Russian people on the 20th anniversary of the adoption of the Russian Constitution," Bolton said in the video. "Were the Russian national government to grant a broader right to bear arms to its people, it would be creating a partnership with its citizens that would better allow for the protection of mothers, children and families without in any way compromising the integrity of the Russian state. That is my wish and my advice to your great people."
Security clearances have been a frequent source of concern in the White House under Trump; according to Bloomberg, more than 30 aides to Trump have had their security clearance downgraded, including son-in-law Jared Kushner. According to a CNN poll released in early March, 70% of the American people are concerned about the number of White House employees serving without permanent security clearances.
The Russian video, however, was not Kaine's only concern about Bolton, who has advocated preemptive wars with Iran and North Korea. The senator also cited Bolton's reported history of manipulating intelligence, which affected his Senate confirmation as U.S. ambassador to the United Nations under former President George W. Bush. Bolton, who previously served under Bush as under secretary of state for arms control and international security, was ultimately only confirmed to the ambassadorship through a recess appointment made by Bush after his confirmation was held up by the Senate. After his appointment in August 2005, Bolton then resigned from the position in December 2006, after it became clear the Senate would not permanently confirm his appointment.
"The national security adviser position is there to gather basically the best advice from Defense, the State Department, Commerce, on international trade and then present neutral, top quality intelligence and options to the president, but John Bolton had a hard time getting Senate votes for the U.N. ambassador over a track record alleged by many that he would cook intelligence in ways that even the intel agents like the CIA found to be deeply problematic," Kaine said.
Kaine cited a recent TIME Magazine report on Bolton's failed confirmation, which described Bolton's history of "distorting vital intelligence" during Bush's first term.
"Whenever his staff sent testimony, speeches over for clearance, often it was full of stuff which was not based on anything we could find," a retired official familiar with the intelligence-clearance process told TIME. "So the notes that would go back to him were fairly extensive, saying the intelligence just didn't back up that line."
Bolton particularly manipulated intelligence about the weapons programs in North Korea and Cuba, according to TIME. During his Senate testimony, Bolton then misled senators while defending himself against these claims, saying that then-ambassador to South Korea Thomas Hubbard had supported a speech Bolton gave on North Korea that Hubbard later testified he opposed.
"You can't have an NSA adviser that is not going to be straightforward about what the intelligence suggests that the nation should do," Kaine said Sunday. "So that's one of many reasons to be concerned about him."