Yet again, Gov. John Kasich won't say whether he'll run for president against Trump in 2020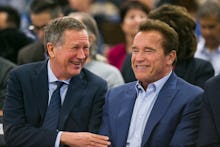 Ohio Gov. John Kasich's potential 2020 ambitions have come into the spotlight once again thanks to former California Gov. Arnold Schwarzenegger — but the potential Trump challenger still remains evasive about a presidential run.
Schwarzenegger talked up the Ohio governor's presidential bid during an appearance with Kasich in California Wednesday, in which he urged Kasich to "get back to Washington and kick some butt and take care of this mess, once and for all."
"Your vision and inclusiveness is just what our nation needs," Schwarzenegger told Kasich, according to CNN.
Schwarzenegger then doubled down on his comments in a CNN interview Saturday, saying that he told the former 2016 candidate that "he should run in 2020."
"I think he should run against President Trump, and I think that he should go and show the American people an alternative," Schwarzenegger said.
Kasich had a chance to respond to Schwarzenegger's advocacy in an interview Sunday on CNN's State of the Union — though he wouldn't answer whether he was taking the actor-turned-governor's words to heart.
"Well, you know, Arnold, those kind of words give me — it's a strong level of support, right. It gives me a big lift," Kasich said when asked by host Brianna Keilar whether he would take Schwarzenegger's advice. "Let me tell you about Arnold. He's a fantastic guy, he's a natural leader, he's a dear friend of mine and he's worried about our country. And I appreciate that."
"Anything that I do in politics, you know, I would put a little bit more delicately ... but I've always been very aggressive in promoting the things that I believe in," Kasich continued. "But I also want to say, Brianna, the most important thing for leaders right now, at all levels, and in all spheres: Bring people together."
This isn't the first time that Kasich, considered to be one of Trump's primary potential 2020 challengers, has declined to rule out a presidential run.
"I'm going to finish my term in 18 months as the governor of our state, pull the state together and get it to do better and better and better. That's what I'm all about — giving everybody a shot. And then I don't know what I'm going to do," Kasich said in an interview with Bill Maher in May 2017.
More recently, Kasich has said that "all options are on the table" when it comes to his post-gubernatorial plans — potentially including a presidential run. Politico reported in February that his team had recently ramped up their 2020 efforts, though they were still waiting to determine whether Kasich's potential run could be as a primary challenger to Trump or as an independent bid.
"All of my options are on the table. But I'm a Republican, I'm a conservative, and I just want to add to the public debate and do a good job," Kasich told reporters at his appearance with Schwarzenegger Wednesday. "I'm not ruling anything in or out."