Rick Santorum says kids should learn CPR instead of protesting for gun control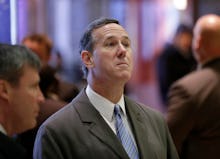 In the midst of a national youth movement for commonsense gun control, former Pennsylvania Sen. Rick Santorum stopped by CNN's State of the Union Sunday to give students protesters his two cents about their cause.
According to Santorum, students pressuring Congress to pass stricter gun laws are "looking for someone else to solve their problem." The former senator argued that instead of marching, the students should do something useful — like learn CPR.
"How about kids, instead of looking to someone else to solve their problem, do something about maybe taking CPR classes or trying to deal with situations that when there is a violent shooter that you can actually respond to that," Santorum said.
When CNN anchor Brianna Keilar argued that the kids were taking action, Santorum doubled down on his comments about the young protesters.
"Yeah, they took action to pass a law," he continued. "They didn't take action to say, 'How do I, as an individual, deal with this problem?'"
The former senator's criticism of the student protesters sparked an immediate backlash on social media.
Santorum's remarks come just one day after Saturday's March for Our Lives, a massive national day of action that saw protesters young and old take to the streets demanding stricter gun laws. The day was organized in response to the Feb. 14 school shooting at Marjory Stoneman Douglas High School in Parkland, Florida — a tragedy that sparked a reckoning on gun violence in America.
The March for Our Lives demonstrations in Washington centered the voices of children whose lives have been affected by gun violence. Emma Gonzalez, a survivor of the Parkland shooting, delivered a 6-minute and 20-second speech — the exact duration of the shooting at her school.
"Fight for your life," González urged. "Before it's someone else's job."