Get to know Betsy Teske, one of the three curve models who walked in Europe this fashion month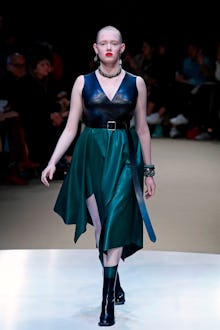 As thankful as she is for her success, model Betsy Teske wishes she wasn't as trailblazing as she is in the fashion industry.
This past fashion month, Teske was one of only three curve models (along with Naomi Shimada and Gabrielle Richardson for H&M in Paris), who walked in Europe this fashion month, which saw a sharp decline in the number of curve and plus models this season for the first time in two years. There were no plus or curve castings whatsoever in Milan or Paris.
"I wish I didn't have to be the first one to work with this designer or book this magazine or appear in this show," Teske said in an interview. "But of course it would be nice to bring change to the fashion industry."
The one show Teske, who is from the Netherlands, walked in was Alexander McQueen, a house not exactly known for its inclusivity on the catwalk like Christian Siriano or Chromat are. Teske walked for McQueen last season as well.
"I can understand from certain perspectives for designers, why they don't book curve models," Teske said. "But what I've seen at the McQueen show is they have my measurements, they have my size, they even have a mannequin in my size now."
According to Teske, the first time she went in to audition for McQueen last season, they were unprepared for her. The next season, they had invested in her.
"The first time I walked for McQueen, when I had my first fitting, they just had a sample size, and obviously that didn't fit," Teske said. "The second time they had a dress my size and the mannequin and everything. I think designers think it's harder than it actually is."
That's one strategy for brands that still avoid size diversity in shows: You start with one model, invest and go from there. Europe, as a whole, could take note of McQueen's technique, since season after season sees New York far outpacing Milan, London and Paris when it comes to size diversity. Asked why that is, Teske likens it to a high school clique.
"We're always like, 'Oh wait hold on, Americans are doing that so we should that too,'" Teske said. "I think America's just the popular girl and the European countries are the girls who hang around her. Maybe they think there's just a bigger audience for us in America, but of course there's really an audience everywhere for us."
Teske's career in fashion started — and nearly quickly ended — with an audition in Amsterdam three or so years ago.
"I auditioned in Amsterdam for a fashion show," Teske said. "And I had four agencies that wanted me. They all wanted me to lose weight, five inches on my waist in three months. I was like, 'Oh that's not gonna happen, because... how?"
Rather than write off the profession, she looked for agencies that would never ask her to do such a thing to her body. Teske, 21, landed at Linda Models in the Netherlands, which has curvy division. Currently, she's signed with Milk in the U.K. and Muse in the U.S. as well.
In addition to the McQueens shows, Teske's career highlights include landing on the cover of Elle Netherlands and appearing in American Vogue this past year.
"The change is happening in magazines," Teske said. "The revolution has started there, but in fashion shows it's still always straight-sized models. When I was younger, I looked at the girls on the catwalk. When you're young you're very impressionable. You think, 'Maybe I should be that size to be beautiful.' That's why it's important for us to be out there."
And that's why it's important for Teske to continue to fight to be in more shows in Europe, and in more shows than just McQueen.
"If I make the first step in bringing curvy models to the high-fashion market," Teske said. "Others are sure to follow."