Trump expels 60 Russian officers from US after poisoning attack in UK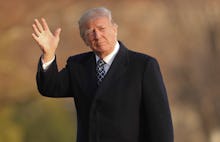 President Donald Trump on Monday retaliated against Russia by expelling 60 of the country's officers from the United States, in a move that comes in response to Russia's poisoning of a former Russian spy and his daughter in the United Kingdom earlier in March.
The 60 Russian officers come from a consulate in Seattle, which will now be closed, the White House announced. The officers have one week to leave the U.S.
"Today President Donald J. Trump ordered the expulsion of dozens of Russian intelligence officers from the United States and the closure of the Russian consulate in Seattle due to its proximity to one of our submarine bases and Boeing," the White House said in a statement.
On March 14, British Prime Minister Theresa May said Russia was behind the nerve agent attack against former Russian spy Sergei Skripal and his daughter, Yulia Skripal. May concluded that Skripal and his daughter were attacked with Novichok, a chemical nerve agent made in Russia and used by Russia for decades.
The U.K. expelled Russian diplomats after the chemical attack.
Allies were questioning why the Trump administration hadn't responded similarly. Trump finally responded on Monday.
"The United States takes this action in conjunction with our NATO allies and partners around the world in response to Russia's use of a military-grade chemical weapon on the soil of the United Kingdom, the latest in its ongoing pattern of destabilizing activities around the world," the White House said. "Today's actions make the United States safer by reducing Russia's ability to spy on Americans and to conduct covert operations that threaten America's national security."