The Beijing International Film Festival has pulled 'Call Me By Your Name' from its lineup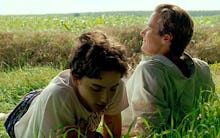 Call Me By Your Name, the Oscar-winning film adaptation of André Aciman's novel of the same name, has been pulled from the upcoming Beijing International Film Festival, according to Reuters.
Sony Pictures Entertainment declined to comment as to the reason why the film was pulled, but the Chinese government's relationship to the LGBTQ communities has raised questions about whether the film was pulled for its explicit depictions of same-sex romance. Homosexuality is legal in China, but depictions of homosexual relationships in television are technically blacklisted under Chinese censorship laws, CNN reported in March 2016.
Call Me By Your Name — which had a wide release in January — tells the story of Elio (Timothée Chalamet), a bookish 17-year-old who strikes up a romance with Oliver (Armie Hammer), a 24-year-old academic who lives with Elio's family in Italy for the summer. The Luca Guadagnino-directed film garnered four Oscar nominations (including one win, for James Ivory's screenplay) and was met with near-universal acclaim, which only adds to the frustration that it's been pulled from one of China's biggest film festivals.
"There is no clear policy on this issue [of LGBTQ depiction in film], so we are always confused," Xin Ying, executive director of the Beijing LGBT Center, said, according to Reuters.
China's movie-going public has become an increasingly lucrative demographic for Hollywood, making up nearly 50% of the global box office in 2017, but negotiating the inconsistent censorship regulations has often proven difficult for U.S. filmmakers.