The appointment of Virgil Abloh at Louis Vuitton proves fashion is finally listening to consumers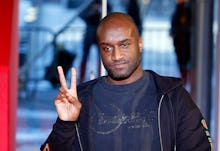 Alongside history-making diversity on fashion runways and at fashion glossies, there's now history-making diversity behind the scenes at major fashion companies and brands too.
The latest instance came early Monday morning, when news broke that Virgil Abloh, the designer, DJ and longtime creative director to Kanye West, will be the new lead men's designer at Louis Vuitton. (Abloh will replace Kim Jones, who announced his departure in January, before last week announcing his new tenure as menswear designer at Dior.)
Born in Illinois, Abloh is the first African-American to lead design at not only Louis Vuitton but any fashion house owned by the powerful fashion conglomerate LVMH, which owns Vuitton, Fendi, Céline, Dior, Givenchy, Marc Jacobs and more.
"It is an honor for me to accept the position of men's artistic director for Louis Vuitton," Abloh said in a statement. "I find the heritage and creative integrity of the house are key inspirations and will look to reference them both while drawing parallels to modern times."
Abloh is now one of four people of color heading up major Paris-based brands, with Olivier Rousteing over at Balmain and Carol Lim and Humberto Leon over at Kenzo.
The fashion scene, Naomi Campbell included, seems to be thrilled.
The news also signals one of those rare circumstances when fashion has obviously kept its consumers in mind.
Abloh has, at the moment, one of the most ravenous fanbases in fashion. He's the designer behind the luxury streetwear label Off-White, which racked up enormous sales numbers in 2017. Ahead of its fall 2018 show in Paris, there was a riot outside. His designs, which are often tongue in cheek, are Instagram gold, with women like Kim Kardashian West and Bella Hadid regularly rocking his garments.
Brands like Jimmy Choo have already banked on his popularity, and now Vuitton, which was founded in the mid-1800s, is clearly tying to attract these young consumers.
What can we expect from this new direction for Abloh? We're already hopeful that he will help Vuitton's menswear runways shift to being more racially diverse. His Off-White show in Paris was one of the most racially diverse shows in Europe during the most recent fashion month, with a show that had 59% models of color, according to the Fashion Spot.
Other than that, we'd suggest preparing for the creative to be as referential and topical as his past work. His fans will surely follow.