Why former Miss America Mallory Hagan says her congressional run is not an anti-Trump campaign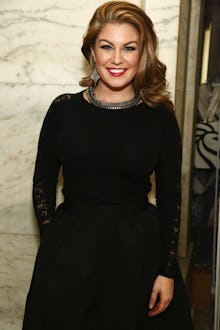 Former Miss America Mallory Hagan appears to be the perfect midterm foil for President Donald Trump, the erstwhile beauty pageant owner who faces multiple allegations of sexual harassment from contestants and other women in his orbit.
But Hagan — who is running for Congress as a Democrat in Alabama's 3rd District — is not running an anti-Trump campaign.
In fact, Hagan isn't making much mention of Trump at all in her bid to unseat eight-term GOP Rep. Mike Rogers.
"President Trump is President Trump. What I'm focused on is the people of Alabama and being a representation of them, and being a role model and leader to young people," Hagan told Mic in an interview at our New York City offices.
Keeping a distance from criticizing Trump is necessary in Alabama's 3rd District, a deep-red seat that Trump won by a 33-point margin in 2016 — a victory bigger than Mitt Romney's 26-point victory in the seat four years earlier.
The seat is so red that it narrowly chose Republican Roy Moore — who was accused of child molestation — in the December Senate special election, which saw Democrat Doug Jones pull out a stunning victory in a state Trump won by double-digits.
But Hagan hopes to overcome the district's voting history by running as a change agent, with a similar message to the one Democratic Representative-elect Conor Lamb used to get elected in a similarly Republican-leaning district in Pennsylvania earlier in March: She'll be her own member of Congress, and won't be beholden to entrenched lawmakers such as House Minority Leader Nancy Pelosi — the GOP's favorite bogeywoman.
"I've been running this race against career politicians, and Nancy Pelosi is also a career politician and that's not working for us," said Hagan, who quit her job as a morning news anchor at a television station in Columbus, Georgia, in order to run for Congress. "The status quo is not serving any of us, so I hate that we are put into categories as people in this political climate, but at the end of the day I'm an individual and I serve Alabama's 3rd District, and so it's going to be about having conversations with those people, listening to them and doing what's best for the people of Alabama at the end of the day."
Hagan has also taken a moderate stance on the issue du jour — gun control — advocating for "common-sense" solutions such as universal background checks, waiting periods to purchase guns and possibly raising the age limit to purchase rifles.
"There are guns in my house. I grew up with guns in my home and I certainly don't believe in taking away anyone's rights," Hagan said, adding that the gun reforms she supports are "things that poll universal across the board and I think that would be a great place for us to start."
Hagan's congressional bid also comes amid the #MeToo movement, which has spurred more than 300 Democratic women to run for Congress.
Hagan also has her own #MeToo story.
After winning Miss America in 2013, she was slut- and fat-shamed by Miss America executives, who emailed derogatory comments back and forth about her weight and sex life.
But Hagan said that won't be a focus of her campaign.
Yet Hagan said that the movement has been a special one to watch bloom, given that it was sparked by fellow former Miss America and former Fox News anchor Gretchen Carlson, who sued the late Fox News chairman and CEO Roger Ailes for sexual harassment.
"It's not something that will be a focus," Hagan said. "But it's definitely a pivotal moment in history and I'm really proud to be a part of that."
Of course, Hagan will first need to win her own primary if she hopes to compete against Rogers in this difficult seat in the November midterms.
She faces psychologist Adia McClellan Winfrey on June 5.
While Hagan hopes to win, she said the fact that Alabama voters even have a choice of a candidate in the 2018 cycle is something to celebrate.
"Alabama has people up and down the ticket all across the state this election cycle, which is something that we haven't seen in a very long time," Hagan said.
And Hagan acknowledges that the November race would be tough.
"There are going to be plenty of challenges, but ... this is about creating a better future for our kids, and so I'm really optimistic," Hagan said.
Regardless of the outcome, Hagan said she will still be happy to have served as a role model for others to seek office and have their voices heard.
"And either way ... I still win because there are thousands of young people who look up to me through social media as a role model," Hagan said. "So even if I don't win this election I've still hopefully inspired someone to get involved in their community or in their political process."