Facebook's been spying on our call and text data, too — here's how to tell if you've been affected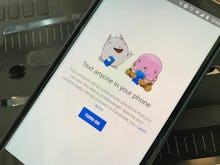 Facebook's been caught overstepping user privacy, and now there's more. Facebook has been peeking at smartphone users' phone call and SMS text data.
Facebook has been facing extra scrutiny since former Cambridge Analytica employee Christopher Wylie blew the whistle on the firm in mid-March. Cambridge Analytica utilized Facebook user data to sway voters in the 2016 presidential election. According to Facebook, this wasn't a data breach, since users consented to giving their information away. Nonetheless, it was enough to launch an Federal Trade Commission investigation into Facebook.
So what else have you unknowingly consented to give to Facebook? Information about who you've been calling and texting, possibly.
On Wednesday, Dylan McKay posted on Twitter saying that he noticed some weird data in his Facebook archive — the ZIP file backup of his entire profile that Facebook lets its users download. In addition to the usual photos and status updates, he noticed timestamped call logs and data on who he was texting. On Android, Messenger lets you set it as your default texting app, so that all SMS messages are sent using Facebook's app. But McKay claims he never did so.
How to tell if Facebook's been looking at your call and text data
Facebook has released a blog post addressing this issue. Like before, the company claims it only has this information about users who explicitly gave their consent. If you've ever allowed Facebook access to your contact book, this could mean you. Facebook asks for access to your entire list of contacts in this setup screen that comes up when you first download the app.
IPhone users are not affected by this (as far as we know), but those using the Messenger app on Android could definitely be afflicted.
If you've ever allowed Facebook access to your contacts or made the app your default mode of texting, you may find similar info in your Facebook archive. If you're computer savvy, you can make use of McKay's script to see all the info Facebook has on you. If you use Messenger but want to cut off the company's access to these things, head to the Settings app on your Android device, go to Apps and Permissions and find the Messenger app. Tap Permissions and you'll be able to toggle on and off exactly what the app can see. It won't be enough to get the FTC off of Facebook's back, but at least you'll regain a bit of your privacy.