Remington's bankruptcy is just the start: Why gun companies are struggling in the United States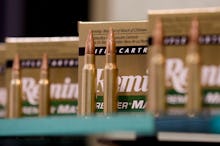 Remington Outdoor Company — the gunmaker that manufactured the rifle used in the Sandy Hook Elementary School mass shooting of 2012 and one of the oldest gun suppliers in the United States — filed for Chapter 11 bankruptcy protection Sunday.
The North Carolina-based company's court filing is part of a previously announced deal with creditors to reduce its nearly $950 million in accumulated debt. Bankruptcy proceedings are expected to wrap as soon as May 3, Reuters reported.
Remington, which has a company history dating back to 1816, saw sales decline by 27% in the first three quarters of 2017, as Reuters reported, amounting to a $28 million operating loss. But the manufacturer's financial (and legal) woes have been an issue for some time, and the company is not the only gunmaker in America having difficulty in a climate of inconsistent sales and declining stock prices.
Sturm Ruger, the company that makes the AR-15-style weapon used in a 2017 Texas church shooting, reported a double-digit sales decline at the end of that year as well. And stock prices have dropped in the past year for two other gunmakers: Vista Outdoor and American Outdoor Brands, maker of the Smith and Wesson weapon used in several mass shootings including those in Aurora, Colorado; San Bernardino, California; and Parkland, Florida.
Why is this happening? It is true that as public sentiment is turning strongly against the gun industry, retailers have begun restricting sales of guns and the new government spending bill contains some gun control provisions.
But the decline in sales has occurred over a longer term. Perhaps most significantly, having an National Rifle Association-approved Republican in the Oval Office may have actually hampered gun purchases, as the Chicago Tribune has reported. That's because following most mass shootings in Barack Obama's presidency, gun rights groups would gin up fear of looming executive action on gun control, motivating firearm enthusiasts to buy more guns.
Now, with Republicans in control of the White House and both chambers of Congress, that imminent threat is absent — and gun sales have taken a tumble. A glut of inventory is part of the problem, Rommel Dionisio, a managing director of equity research at Aegis Capital who focuses on publicly traded firearms companies, told Bloomberg for a piece published in February following the Parkland shooting.
"Everyone thought Hillary was going to win," Dionisio said. "These retailers and distributors stocked up on the product before the election. They were really expecting a dramatic surge. ... The scenario didn't materialize, so after the election, they're stuck with excess inventory. They've been trying to work down that inventory, bring them down to normal levels, and in the meantime not ordering from manufacturing."
Another possible factor: A recent study suggests about half of privately owned guns are held by only 3% of the population — meaning changes in behavior by a small number of people can have an outsized effect on the industry.
All of this said, firearm background checks, a loose proxy for gun sales, have remained relatively stable in recent months. And many retirement savers and investors might actually invest in gun stocks and not know it, as Mic has previously reported. If you want to see whether you are an inadvertent gun investor, Morningstar's Jon Hale created a handy paper to help you find out.
The news of Remington's bankruptcy filing comes just one day after students across the country took to the streets for the March for Our Lives protests in an effort to get lawmakers to take further action on gun control.
The rallies were organized by the prominent, student-led coalition of survivors of the school shooting in Parkland, Florida, on Feb. 14 that galvanized a generation to mobilize on the issue of gun control.
With the Parkland teens advocating for an inclusive politics that takes the experiences of teens from marginalized communities that have been hammered by gun violence into account, regulating the firearms industry has become a generational issue ahead of the 2018 midterm elections — one that is unlikely to disappear any time soon.
Sign up for the Payoff — your weekly crash course on how to live your best financial life.