'Black Panther' just broke another record. Here are all the ways it's made box-office history.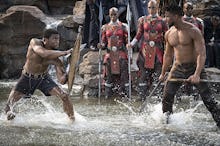 The wildly popular Black Panther hit another milestone this weekend — it's now officially the highest-grossing superhero movie domestically, not adjusted for inflation.
As Variety reported on Sunday, Black Panther earned $17 million in the U.S. during its sixth weekend in theaters, bringing its domestic total up to over $630 million. That means the latest Marvel film, which was directed by Ryan Coogler and stars Chadwick Boseman, Michael B. Jordan and Lupita Nyong'o, has officially beaten out The Avengers, which earned $623 million domestically in 2012.
According to ABC News, this most recent weekend's showing makes Black Panther the fifth-biggest domestic release ever — across all genres. And it's on track to rocket past Titanic as the third-largest domestic release in history. This latest milestone is on-trend for the film, which has been smashing records since its release on Feb. 16.
And even before it came out, Black Panther was already making history. Black Panther sold more tickets in its first 24 hours on Fandango pre-sale than any other movie in the Marvel cinematic universe, beating out a record set by Captain America: Civil War in 2016. (Although Black Panther's pre-sale record has already been surpassed by the highly anticipated Avengers: Infinity War, which will feature several characters introduced in Black Panther.)
By the end of its first weekend in theaters, Black Panther had earned some $192 million in North America, making it the fifth-biggest opening weekend in history without adjusting for inflation, the Guardian reported at the time. It also set a record for the biggest February opening weekend in history.
The hype didn't slow down the next day, either — the following Monday, with many moviegoers off for Presidents Day, Black Panther earned $40.16 million, for the "biggest Monday in box office history," as CNN declared in February. In its first four days alone, Black Panther earned $241.9 million in North America, netting it another record: Best Presidents Day opening, CNN reported.
Black Panther's record-breaking opening weekend also made it the highest-grossing opening weekend for a film directed by a black director in box-office history. The success of the film has highlighted the power of black representation at the box office. Speaking to Mic before the film's release in February, star Michael B. Jordan addressed the pressure on the film to succeed, as a film in its own right but also as a symbol of what a more diverse future for Hollywood could be.
"You want this project to do well because this is a business, so the next time around, there will be more opportunities and there'll be more chances taken on a cast that looks like this, or a director that looks like [Coogler], or women — just not your norm, not your typical situations," Jordan said. "Hopefully this does break down barriers and opens up doors for other people to have the same opportunities that the cast of Black Panther has, moving forward."
It remains to be seen whether or not the success of Black Panther will permanently alter the business of blockbuster movies — but the film didn't just "do well," as Jordan had hoped, it smashed records even after opening weekend.
As Forbes reported in February, Black Panther earned $108 million in its second weekend for the second-biggest second weekend in history without adjusting for inflation, bested only by 2015's Star Wars: The Force Awakens.
Black Panther also, as Variety reported, went on to remain at the top of the box office for five weekends in a row — the last film to pull a streak like that was Avatar in 2009 and 2010. Avatar, James Cameron's 2009 sci-fi fantasy epic, is the current title-holder for biggest worldwide box office gross — it earned $2.7 billion worldwide.
It took just 26 days for Black Panther to earn $1 billion worldwide, and it was only the fifth Marvel movie to hit the $1 billion mark. This past weekend, its sixth in theaters, was the first weekend that Black Panther didn't hold the top slot — it was knocked off its throne by the just-released Pacific Rim Uprising. But the film is still dominating the conversation, if not the box office — Twitter announced on Tuesday that Black Panther is the most tweeted about film in history.