Dakota Jablon wants to start a national conversation about gun suicides. For her, it's personal.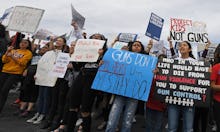 If you were going to paint a picture of the perfect childhood, it would probably look a lot like Dakota Jablon's. Her parents were loving and supportive. She had a thriving social life and plenty of friends.
"I was someone that you could say had it all," Jablon, now 26, said in an interview. "Looking at my life from an outside perspective, you would never think that I would be struggling as much as I did."
Jablon was diagnosed with depression at 12 years old. When she was 16, she attempted suicide by overdose.
"What I didn't know at the time, which I know now, is that only 1% of suicide attempts made by overdose actually result in death, which is fortunate because that meant that I got a second chance at life," Jablon said. "If I had access to a gun when I was attempting suicide, I would absolutely not be alive today."
In a powerful video op-ed for Mic, Jablon, now a policy analyst at the Coalition to Stop Gun Violence, makes a powerful case for why we need to start a national conversation about the outsized role of suicide by firearm in America's epidemic of gun violence.
The statistics here are harrowing.
"Firearm suicide is a huge problem in America," Jablon said. "Research has shown that just having a gun in your home increases your risk of suicide. Sixty percent of all gun deaths in this country are suicide, and almost 23,000 people died by gun suicide in 2016. Almost 62 lives are lost every single day by gun suicide. We can prevent these deaths from happening, and instead we are doing nothing."
Jablon is calling for common-sense gun policies proponents argue will help curb the nation's silent epidemic of gun suicides. One such policy, called "lethal means counseling," empowers medical professionals to limit access to firearms for individuals at risk for suicide. Another such policy, the Extreme Risk Protection Order, allows for family members concerned about a loved ones' mental health to petition the court to confiscate their firearms and temporarily bar them from possessing guns for up to a year.
Jablon is also calling on responsible gun owners to keep their weapons locked up and unloaded.
"This is a suicide prevention tool that really can work, because a suicidal crisis is often very fleeting and it's important to put time between a person who is suicidal and a potentially lethal method," Jablon said.
Watch Dakota Jablon's powerful video op-ed for Mic here.