Netflix renews 'One Day at a Time' for a third season after a desperate online campaign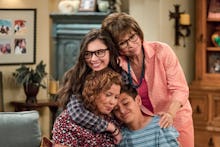 One Day at a Time will live to see yet another day.
Amid rumors of a potential cancellation, Netflix announced Monday that the sitcom about a middle-class Cuban family would be renewed for a third season.
Until now, the fate of the show — which stars Justina Machado as a military veteran and single mom of two — was relatively uncertain. In February, series co-creator Gloria Calderón Kellett tweeted a plea asking fans of the show to watch, sparking conversations that One Day at a Time might be on the chopping block. Since Netflix doesn't share viewership numbers, the public is entirely in the dark in terms of how its shows actually perform.
"PLEASE watch [and] tell friends [and] family to watch at least FOUR episodes in the next few days," Calderón Kellett wrote.
In the time since, a groundswell of support emerged for the show, with numerous critics — including those at Paste, the Hollywood Reporter and Variety — writing passionate op-eds about the show's nuanced, smart depictions of gender, sexuality, race and mental health. The National Hispanic Media Coalition, a nonprofit advocacy organization, published an open letter on its site in mid-March, pleading for Netflix to renew the series.
In its renewal announcement Monday, Netflix's official Twitter account acknowledged the noise fans and critics had been making online.
"To the beautiful @OneDayAtATime fans who got loud about this, we love you," the post read.
Netflix also announced season renewals for a number of other original series, including Queer Eye, Nailed It!, Dope, The Toys That Made Us and Drug Lords.