Stormy Daniels receives cease and desist letter as White House won't say if Trump saw interview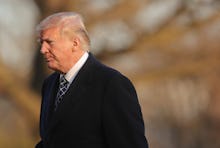 Stormy Daniels received a cease and desist letter from President Donald Trump's personal lawyer Michael Cohen on Monday. Meanwhile, the White House declined to indicate whether Trump watched the adult film star's highly anticipated 60 Minutes interview Sunday night, during which she discussed her alleged affair she had the president in 2006.
Deputy press secretary Raj Shah did, however, say at Monday's White House press briefing that all of Daniels' claims — including that she was threatened in a parking lot after publicly talking about the alleged affair — are false.
"I can speak for only the White House, and I can say categorically that the White House didn't engage in any wrongdoing," Shah said. "The campaign and Mr. Cohen can address anything with respect to their actions.
"With respect to that interview, I will say the president strongly, clearly and has consistently denied these underlying claims, and the only person who has been inconsistent is the one making the claims," he added.
Though Shah refused to answer questions about whether Trump watched the interview, he did say the president "doesn't believe that any of the claims that Ms. Daniels made last night in her interview were accurate."
He also said "there's nothing to corroborate" Daniels' claim that she was threatened in a Las Vegas parking after discussing the alleged affair with In Touch magazine in 2011.
Daniels' allegations have dogged the White House for weeks as the adult performer fights to be released from a $130,000 hush agreement Cohen helped broker days before the 2016 presidential election. Her lawyer argues the agreement is invalid because Trump never signed it.
When asked why Daniels would be offered such a large sum of money if her claims were untrue, Shah responded that, "False charges are settled out of court all the time. You'd have to ask Michael Cohen about the specifics."
Despite the threat of legal action, Daniels told her side of the story to 60 Minutes contributor Anderson Cooper. The program saw its best ratings since its interview with then President-elect Barack Obama in 2008, according to USA Today.
After the interview, Cohen's lawyer sent a cease and desist letter to Daniels and her lawyer, Michael Avenatti, telling them to stop making "further false and defamatory statements."