Meet the women fighting to ensure people of color have a stake in the legal marijuana industry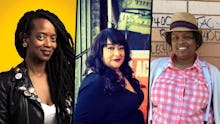 As American investors and entrepreneurs rush to mine whatever profits they can from legal marijuana, organizations led by women of color are working to ensure non-white people have a stake in the booming industry.
"I honestly think that this is the last shot [at] generational wealth for people of color, given the way that the economy is about to shift and change," Mary Pryor, co-creator of Cannaclusive, a weed-centric photography and financial education firm, said. "The disparity between the middle class [and upper classes] is getting worse and worse."
Legal cannabis will generate an estimated $40 billion in economic output by 2021, according to Arcview Market Research — a 150% jump from $16 billion in 2017. The report indicated that 414,000 full-time jobs in cannabis and its related industries are expected to be added by then. Medical marijuana is legal in 29 states and Washington, D.C. today, Vox reported. Sixteen have legalized cannabidiol, or CBD — a cannabinoid extracted as an oil and used in various products — while eight and Washington, D.C. have legalized recreational marijuana outright.
Cannaclusive — co-founded by Pryor, Tonya Rapley-Flash and Charlese Antoniette, all black women — provides stock imagery of people of color using cannabis for brands and media to use in their materials and educates people of color about investment opportunities in the industry.
"There's no real win here unless you compete," Pryor said, explaining why people of color's involvement on the business end is so vital.
Pryor started learning about the medical benefits of cannabis after she was diagnosed with Crohn's disease in 2012. She was hospitalized 30 times between October 2012 and May 2017, and decided to move to Los Angeles to seek further treatment in June 2017.
"I ended up having a flare-up the same week I landed due to stress, and ended up in the hospital," Pryor said. "That was my last stay and my last hospitalization. I went hardcore on various cannabis strains and found the right ones for my condition within a few days of self-testing."
Pryor hosts live panel discussions across the country, and said she began hosting information sessions virtually last October.
"I'm greatly concerned with the lack of information that's out there within black communities about cannabis," she said. "I just really hope people of color wake up and start seeking this information ... and start thinking, 'What would it look like if I got my entire black fraternity or black sorority to put up a $1,000 each and go in on a dispensary?'"
According to a survey of 567 self-identified marijuana industry senior executives, owners and founders conducted by Marijuana Business Daily in 2017, people of color have a slightly bigger leadership presence in the marijuana industry on average compared to U.S. businesses overall. Thirteen percent of business executives nationwide are non-white, the report stated. Seventeen percent of executives in the marijuana industry are people of color.
Non-whites are best-represented in the industry as wholesale cultivators (24.1%), ancillary services firms (20.8%) — businesses adjacent to direct sales, like apps that deliver weed to customers or law firms that focus on marijuana cases — and infused product makers (16%). Underrepresentation may stem partly from concerns about involving themselves in a "heavily regulated and federally illegal industry," according to the report.
Traditionally, black Americans in particular have also faced especially high incarceration rates for drug-related offenses, despite using marijuana at roughly the same rates as white Americans. Several states have laws restricting when and if people with felony convictions can be licensed to work in the industry, which disproportionately impacts people of color.
"The communities most harmed by marijuana criminalization have struggled to overcome seemingly insurmountable barriers to fully participate in this market," stated a January report from the Drug Policy Alliance.
These disparities can largely be attributed to disparate policing. Black people are nearly four times more likely to be arrested for marijuana possession than white people nationwide, the ACLU reported in 2013. In Washington, D.C. — where recreational marijuana has been decriminalized since 2014, though it is still illegal to buy and sell — circumstances are more extreme: A black person is 11 times more likely to be arrested for public consumption of the drug, according to the Drug Policy Alliance.
To narrow this gap — and some of the disparities that stem from it — some cities are considering initiatives to reduce barriers to entry in the marijuana industries. Oakland, California, has a cannabis-focused equity program that requires that at least half of issued licenses for legal marijuana businesses go to individuals who have been convicted of a marijuana-related offense in the city, have an income level below 80% of the city's average or have been a resident for 10 of the past 20 years in an area of Oakland that has a high rate of marijuana-related arrests.
Amber Senter of Supernova Women, — a three-year-old Bay Area firm that runs business, education and civic engagement workshops focused on cannabis, including to help people with felony convictions break into the industry — along with her co-founders Nina Parks, Tsion "Sunshine" Lencho and Andrea Unsworth, helped Oakland implement its equity program.
"Our mission is to make people of color owners in the industry," Senter said, "[and] give them the tools and introduce them to the right people and the right information they need to be on the path to success."
Senter has used cannabis since 1999, and has used it medically to cope with lupus since her 2013 diagnosis. She saw the need to create Supernova while working with Lencho at a cannabis consulting firm and noticing the applicants seeking licenses were mostly white.
Christine De Le Rosa, one of four co-founders of the People's Dispensary — an Oakland-based social enterprise and dispensary, which uses its business model to push for racial equity within the cannabis industry — said she was reluctant to venture into the marijuana industry because she was taught to view smoking negatively while growing up.
"I [was] definitely taught to have a stigma around marijuana," she said. "[Stigmas like], 'Don't be that Mexican, smoking weed.'"
De Le Rosa, who was diagnosed with lupus in 2010, began exploring CBD as a treatment option after attending a conference workshop in Denver that explained the cannabinoid's benefits.
"I'm grateful for that workshop because ... they were explaining what CBD did and what it affected which is everything I was experiencing," she said. "High inflammation, inability to walk, fatigue. They were saying, 'This thing can possibly help you.' When I got back to Oakland from Denver, I got my medical card. I started to take myself off of 11 medications and by [July 2015] I stopped taking ... medications for lupus."
In 2016, De La Rosa opened the People's Dispensary to help others learn about marijuana. She and her co-founders — Michael Schlieker, Chaney Turner and Charleen Caabay — grew their collective membership program to 2,800 through word of mouth, she said.
In January 2018, the dispensary began seeking non-accredited investors to raise capital. An accredited investor — as defined by the Securities and Exchange Commission — is an individual with more than $200,000 annual income, or an individual or joint net worth (with a spouse) of $1 million or more, among other high income-related qualifiers.
"I am a woman of color, and most of our community [in Oakland] are people of color," De La Rosa said. "Most of them would not be considered accredited investors."
By removing these barriers to investment, De La Rosa is on her way to making her company majority owned by people of color. She said she has raised $380,000 from non-accredited investors so far. Her goal is to open five additional California dispensaries, in San Francisco, Los Angeles, Stockton, Richmond and Sacramento.
The People's Dispensary business model also entails purchasing multi-unit dilapidated buildings near its dispensaries and refurbishing them to offer as subsidized rentals to employees.
"It's so important for your employees to live in the community that they serve," De La Rosa said. "It's really important to understand the culture [and] to understand the people."
Beyond business education and representation, challenging politicians to include people of color in marijuana legalization and regulation is also critical, Pryor explained.
"When people start voting for [politicians they] have to ask them, 'Hey what's your [policy], what is your take governor or mayor when it comes to drugs?'" she said.