Trump administration adds citizenship question to the census, sparking legal challenges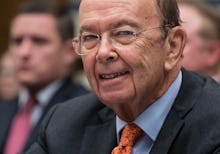 Welcome to Mic's daily read on Donald Trump's America. Want to receive this as a daily email in your inbox? Subscribe here.
Here's what's happening in Trump's America:
• California sues the Trump administration over adding a citizenship question to the census.
Today's question: Do you think Trump will bring Porter back, despite Porter's history of alleged domestic violence?
Please email us at trumpsamerica@mic.com with your thoughts.
About last night: Trump administration adds a citizenship question to the census
The 2020 census will include a question about whether respondents are U.S. citizens, the U.S. Department of Commerce announced late Monday night. Critics say the question will lead to an inaccurate count, as immigrants will fear answering questions for risk of deportation.
"Secretary [Wilbur] Ross determined that obtaining complete and accurate information to meet this legitimate government purpose outweighed the limited potential adverse impacts," the department said in a statement.
Census data is used to determine how many House seats each state receives before the decennial redistricting process. An undercount could lead more populous states with large immigrant populations to inaccurately receive fewer congressional seats.
Former U.S. Attorney General Eric Holder, who now chairs the National Democratic Redistricting Committee, said his organization plans to file suit against the addition of the citizenship question.
"The addition of a citizenship question to the census questionnaire is a direct attack on our representative democracy," Holder said in a statement. "This question will lower the response rate and undermine the accuracy of the count, leading to devastating, decadelong impacts on voting rights and the distribution of billions of dollars in federal funding. By asking this question, states will not have accurate representation and individuals in impacted communities will lose out on state and federal funding for health care, education and infrastructure."
California Attorney General Xavier Becerra already filed a suit, saying that adding the question violates the Constitution's demand for "actual enumeration" of all people in the U.S. every 10 years, according to the Washington Post.
"It is long settled that all persons residing in the United States — citizens and noncitizens alike — must be counted to fulfill the Constitution's 'actual enumeration' mandate," California's lawsuit says, according to the Post.
Today in Trump's America: Will Rob Porter return?
The New York Times reported Monday night that President Donald Trump has kept in touch with his former aide Rob Porter, the accused domestic abuser who was forced to resign from his position at the White House after the allegations surfaced in February.
Trump reportedly misses the way Porter, who served as White House staff secretary, organized the West Wing. Trump believes Porter's exit was "botched," according to the Times' report.
The domestic abuse scandal rocked the White House for weeks, as top Trump officials continually changed their story about what the administration knew about Porter's alleged behavior and when they knew it.
During the scandal, Trump expressed sympathy for Porter, saying he believed Porter's denials that he didn't abuse his ex-wives. Both women provided photos and details of his alleged abuse to the media.
The domestic abuse allegations against Porter allowed him to operate in his role with a temporary security clearance. The White House was forced to change security clearance protocol after it was revealed that multiple aides, aside from Porter, were similarly unable to get full security clearances.
That includes Trump's former personal secretary John McEntee, who was escorted off the White House property so quickly that he couldn't get his jacket.
According to the New York Times, McEntee's dismissal was because of a gambling problem, and Trump also wants to bring McEntee back into the fold.
Capitol Hill happenings: Recess
Congress is not in session, as both chambers have recessed for Passover and Easter.
But there's trouble brewing for House Republicans, as yet another upcoming House special election in a deep-red district in Arizona is looking like it may be a competitive contest.
The April 24 special election to replace now-former GOP Rep. Trent Franks — who was forced to resign after it was revealed that he asked two former female staffers to be surrogates for his children — would never be competitive in a normal election year. The seat is in a deeply red district, which Trump carried by a 21-point margin in 2016.
However, after the special election in Pennsylvania earlier this month in which Democrat Conor Lamb won a similarly red district, national Republicans are spending money in this Arizona seat to stave off disaster, Politico reported.
Republicans told Politico the money they are spending is "precautionary."
Come November, when every House district is up in the midterms, Republicans won't have the resources to spend money in every seat. If GOP-friendly seats like this one need to be shored up, the GOP is looking at a world of hurt in the midterms in the fall.
And the rest: Stormy's still raging
A day after her bombshell 60 Minutes interview, porn actress Stormy Daniels on Monday filed a defamation lawsuit against Trump's personal lawyer Michael Cohen. The lawsuit says Cohen defamed her by calling her a liar.
"It was reasonably understood Mr. Cohen meant to convey that Ms. [Stephanie] Clifford is a liar," Daniels' lawsuit reads, according to CNN. Stephanie Clifford is Daniels' legal name.
"Mr. Cohen made the statement knowing it was false or had serious doubts about the truth of the statements," the lawsuit continues.
Earlier on Monday, Daniels received a cease and desist letter from Cohen's personal lawyer, which accused Daniels of making "false and defamatory statements."