Parkland teens clarify Second Amendment repeal isn't their mission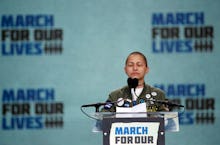 On Tuesday morning, retired Supreme Court Justice John Paul Stevens published an op-ed in the New York Times advocating for the repeal of the Second Amendment.
Amid a furious national debate over gun reform in America, and days after hundreds of thousands of Americans took to the streets in cities across the country to beseech lawmakers to enact common-sense gun laws, Stevens laid out his argument that public support for such reform is clear and broad.
"But the demonstrators should seek more effective and more lasting reform," Stevens wrote. "They should demand a repeal of the Second Amendment."
Since the Feb. 14 shooting at a high school in Parkland, Florida, which left 17 students and faculty members dead, the teenage survivors of the shooting have rallied around the cause of gun reform. Some of the more visible figureheads of the movement quickly began to coalesce around a shared platform, which was eventually formalized by March for Our Lives — the student-led collective that helped organize Saturday's nationwide demonstrations of the same name.
The organization's aims are spelled out clearly on its website: Its teenage constituents want increased funding for gun violence research, looser restrictions at the Bureau of Alcohol, Tobacco, Firearms and Explosives, universal background checks, a ban on high-capacity magazines and a comprehensive ban on assault weapons.
But a repeal of the Second Amendment has never been on that list, and the coalition's most visible leaders have never been shy in saying so. When a Fox News reporter confronted Stoneman Douglas student David Hogg about his gun views Saturday, the teen was quick to point out that the network has frequently botched his position on the issue.
"What a lot of the media, especially Fox News, has messed up with me is they've made it seem like I'm trying to take people's guns and I'm against the Second Amendment," Hogg said. "My father is a retired FBI agent. I have guns in my house. I'm not going against the Second Amendment."
In an essay penned for Harper's Bazaar, Parkland survivor Emma González clarified the movement opposes the National Rifle Association itself — not its members. "Many [NRA members] understand and support our fight for responsible gun ownership, despite the organization preventing common-sense gun laws from being instituted in the name of protecting the Second Amendment," González wrote.
González recently found herself embroiled in controversy after a phony video of her tearing up the U.S. Constitution went viral online. In the original video, the teenager was ripping up a target poster, not the Constitution.
At least one Parkland teen was quick to respond to Stevens' position Tuesday. In response to the Times, Cameron Kasky refuted the former justice's position outright.
"Not what we're going for here, but very interesting considering who wrote it," Kasky posted on Twitter. "I don't feel the same way, but it's an interesting point of view."
In a separate tweet, Kasky said "responsible ownership of a small weapon" isn't something he opposes.
"It should be much more difficult to get a gun than a car, and there should be frequent psychological checkups, but some weapons can protect a home. Assault weapons are not those," he wrote.
Lewis Mizen, one of the Parkland teens who has made efforts to hear arguments from the other side of the aisle, said in an interview with Mic that he "completely disagrees" with the idea of repealing the Second Amendment.
"I believe owning handguns for self-defense, along with owning shotguns and rifles for hunting, are a constitutional right to all Americans," Mizen said. "I cannot speak for my school or for the Never Again movement, but I can say unequivocally that I do not support a repeal of the Second Amendment, and I would condemn any effort to do so."
Mizen is also a video columnist for Mic.
Despite their outright rejection of more left-leaning arguments for gun reform, right-leaning pundits went on the attack Tuesday afternoon over Stevens' op-ed.
Breitbart editor Joel Pollak wrongly claimed Kasky lied about his disavowal of Stevens' position.
"Check out the #MarchForOurLives leadership pretending not to endorse John Paul Stevens's op-ed to repeal the Second Amendment," Pollak wrote. "Note to @Cameron_Kasky: Americans aren't stupid."
It was only a matter of time before someone on the side of gun reform came forward to advocate for a total Second Amendment repeal. But for now, that position is at odds with the goals of the Parkland students, who have set their sights on more incremental reforms.