Wedding gift etiquette: Here's how much the average person spends as a wedding guest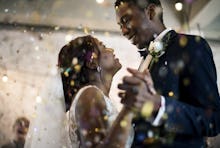 Whether you've been a B-list invite, a best man or the bride herself, chances are you know weddings tend to be expensive. But come warmer months, when the season is in full swing, you might be surprised by just how much you end up shelling out for festivities — especially if you have more than one to attend.
For starters, guests spend an average of $116 on gifts for weddings of close friends or family when they're not in the bridal party, according to a new Bankrate report released Wednesday. Individuals who are members of the wedding crew tend to gift even more — an average of $153 per person.
To reach these numbers, Bankrate commissioned an online questionnaire from YouGov, which surveyed 2,228 people representative of U.S. adults.
The findings revealed that the most financially taxing commitment above all is being part of the wedding party: Between the bachelor or bachelorette celebrations and showers, those who accept the honorable role of bridesmaid or groomsman can anticipate spending an average of $728 in total (that includes gifts, travel, attire and then some). For those party members living in the Northeast U.S., the average total exceeds $1,000.
Yet guests who aren't part of the wedding party still have to dig deep into their pockets, too: They spend an average of $628 on everything leading up to and including the big day, at least when they consider themselves close with the bride or groom. Those who describe themselves as more distant from the couple spend an average of about $372, the survey found.
So what's a not-rich party person to do when there are a half a dozen save-the-dates stuck to the fridge and wedding season is creeping up? Deep breath — there are several smart ways to save.
Opening a dedicated savings account to which you deposit $20 to $50 a month can help you prepare ahead of those big registry purchases, as Sarah Berger of Bankrate previously suggested to Mic. With the right account, you can even earn a bit of interest to boot.
Planning ahead can be a major money-saver: If you'll have to travel to the wedding, booking your flight a couple of months in advance or researching the best deal for a rental car can help to skim off some green. You might also consider foregoing a fancy hotel for a local bed and breakfast, Airbnb or a short-term room rental.
As for the present? Getting to the wedding registry early may give you the best opportunity to buy a great gift within your means — and pairing a more inexpensive on-registry gift with a separate off-registry gift can also help split the difference.
Finally, don't be afraid to turn down a wedding invitation if you're stressed about busting your budget: Sending along a thoughtful, warm-but-apologetic letter or greeting card and small gift — and making plans to see the couple on a different occasion — is classy and shows you care about your friendship.
Sign up for the Payoff — your weekly crash course on how to live your best financial life.