Transgender woman Amia Tyrae reportedly killed in fatal Baton Rouge shooting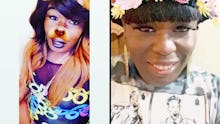 Amia Tyrae, a 28-year-old transgender woman, has reportedly been killed in Baton Rouge, Louisiana. Her death marks at least the seventh homicide of a trans person in the United States so far this year — although advocates say the real number of trans people lost to fatal violence each year in the U.S. is likely far higher than reported.
Local news outlet WBRZ reported on Monday that one person had been killed in an early-morning shooting at a Baton Rouge motel, citing information from local police — although both the police and the local news site misgendered Tyrae. Friends identified Tyrae as trans in posts on social media.
NeVaa White, a close friend of Tyrae's, told Mic in a message on Tuesday that Tyrae had been out as trans since at least 2009, and had a close community of friends. "She made family with her peers in the LGBT community of Baton Rouge," White said.
White remembered Tyrae as an "awesome" friend, "who despite being bullied" herself, would stand up for her friends. White seemed to indicate that Tyrae had been concerned for her safety; she told Mic that Tyrae "didn't have a easy life," and that she "was taken away in the very manner she feared."
As news spread of her death, friends remembered Tyrae in posts on social media — "I will forever love you Amia Tyrae," one wrote. Another said "Amia Tyrae R.I.P. you were such a sweet person with a big heart ... Rest well my friend."
Of the seven trans people reported killed in 2018, five have been trans women of color, including Tyrae. "Our trans lives matter," White told Mic on Tuesday. "We are living, loving people."
The Baton Rouge Police Department has not yet responded to Mic's request for comment.
March 27, 2018, 8:53 p.m.: This story has been updated