Alon Shaya had a very public split with John Besh. Now he's ready to open his own empire.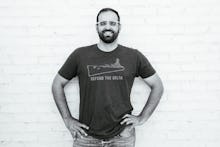 Six months ago, Alon Shaya parted ways with his former employer, John Besh. Since then, he's been opening his own hospitality company, promoting his new cookbook-meets-memoir, and getting ready to open two Israeli-inspired restaurants, Saba in New Orleans in late April and Safta in Denver in June. It might sound chaotic, but "it's not so insane," Shaya said in an interview. That might be because of his strong support system: the newly formed Pomegranate Hospitality, a company comprising several people he's known and worked with for years.
Pomegranate's current team of nine spends its days huddled around Shaya's dining room table, surrounded by his dogs as everyone works on the two upcoming restaurants. Chef Cara Peterson splits her time between the table and the kitchen. With eight burners and three ovens, she's testing recipes like chocolate hazelnut babka for Saba, where she will be the chef de cuisine.
Most of the team's time and focus, though, is spent on "building a structure that will sustain a safe and comfortable workplace for everyone who joins our team," Shaya said, noting that both restaurants will have a strong employee-first focus. "We've spent the last couple of months focusing on nothing but [the workplace] and putting food and beverage and service as a secondary priority to employee culture. That's been a different approach for me, and it's been a different approach for the whole team."
Shaya is opening Saba and Safta, the Hebrew words for grandfather and grandmother, at a crucial time in the restaurant industry. In October, Times-Picayune reporter Brett Anderson published an exposé in which 25 women detailed alleged incidents of sexual harassment within chef John Besh's restaurant group, including a few restaurants where Shaya was in charge. It was the first of several exposés of alleged harassment by Ken Friedman, Mario Batali, Johnny Iuzzini and, most recently, Mike Isabella.
It's also a critical moment in Shaya's life. For the majority of his career, Shaya has been inextricably tied to Besh. Now, as he prepares to open his first solo projects, questions remain as to whether he'll be forever tainted by his previous experience — or whether he can carve a new path for others in the industry to follow.
Restaurants that speak to his Israeli roots
In the past, Shaya has pushed aside his identity. This year is arguably the first time he's embracing it fully. Born in Israel, he moved to Philadelphia at 4 years old, where he spent much of his time outside of school alone while his mother worked multiple jobs to make ends meet. From a young age, food — but not Israeli food — was Shaya's anchor. He pushed away his Israeli identity in an effort to assimilate, changing the Hebrew pronunciation of his name (which sounds similar to "alone") to Ah-LAWN. "Like a lawnmower," Shaya said at a recent book event in Brooklyn.
A 2011 trip to Israel with the Jewish Federation was a watershed moment for him. "I was missing a huge part of my life," he said. He soon started incorporating Israeli ingredients into Italian dishes at the acclaimed Domenica and Pizza Domenica, Besh-owned restaurants where Shaya served as executive chef. Za'atar-dusted pizza dough and lamb bolognese found its way atop tahini with za'atar crostini.
But it wasn't enough. "I realized I needed some expression for the Israeli food I was longing to cook before it overtook the menu at Domenica," Shaya wrote in his book. Within three months of seeing a space — a remarkably short time frame in the restaurant world — Shaya was open.
The accolades came swiftly, and in May 2016, it won the prestigious Best New Restaurant title at the James Beard Foundation Awards. Diners and critics were intrigued by Shaya's interpretation of Israeli food. His grandmother's lutenitsa, a cooked salad of charred eggplant and peppers, found its way to tables; his hummus and pita drew people to the restaurant.
But "I knew that what we were doing was unsustainable," Shaya said. In the laser focus on food and the diner experience, staff resources seemed to get lost. "We were paying 5% of gross revenues to the Besh Restaurant Group, and those revenues were supposed to be … supplying services for the restaurant. And we didn't have a really solid human resources department," he explained. He and his team did what they could to make people feel comfortable but "it wasn't enough." The challenges with the Besh Restaurant Group were "more of a people-issue than a food, beverage or service-issue for me," said Shaya.
Going on the record
In the summer of 2017, he reached out to Anderson, the New Orleans-based journalist. "I knew he was writing this article and I had a lot to say." In a follow up email to Mic, Shaya said that he felt there was "minimal oversight provided for operating the restaurants [and] because of that, we were dealing with issues that I felt we were not properly equipped to handle … I knew that our values did not align."
In a phone interview with Mic, Anderson recalls Shaya wanting him to know he took the allegations seriously and that the restaurants he "oversaw were places that he felt took sexual harassment really seriously."
"I would not be able to be building this company … if that article didn't come out." — Alon Shaya
According to Shaya, he told Besh and his business partner Octavio Mantilla about the meeting. "I got fired for speaking to Brett Anderson," he said. The Besh team, however, has denied that Shaya was fired as retaliation and all three have agreed that their disagreements date back further. The two sides are still embroiled in a legal battle over the name of Shaya, which the chef declined to comment on other than to say it's an ongoing legal situation.
"A lot of people... say, 'Look, in five years, you'll look back at this moment and you'll be thankful for it. And I tell them I'm thankful for it already," Shaya said. "I would not be able to be building this company … if that article didn't come out."
Being cut off from colleagues and the "last nine years of my career," however, was difficult, said Shaya, forcing him to contemplate what would come next. With his new group, he wants to "talk about things we necessarily didn't focus on enough in the past."
A focus on people at Pomegranate
Over the past several months, Shaya said he's worked to create a value structure that will "serve as the backbone for everything we do as a company," and a vision statement that clearly puts employees and their well-being front and center. They translate into nine core tenets that include respect, empowerment and equality.
The team also enlisted a director of people and culture, Suzi Darré, who previously worked in restaurant and hotel HR, most recently at Cavallo Point in Sausalito, California. In the wake of Anderson's article, as other restaurants are working to add or build up HR departments, Darré said Pomegranate is in a unique position to set up policies before hiring the 150 to 160 people the company will likely employ by the time Safta opens.
Diners who behave inappropriately will be disinvited.
"It's about being proactive," not reactive, Shaya said. From job interviews with multiple members of management to background checks and an extensive formal review process for all employees at the 30 and 90 day marks, and every six months after, Pomegranate is attempting to put structures into place that will protect employees — and, presumably, the company.
In a spelled-out zero-tolerance policy for harassment, the company vows to investigate every complaint. "It'll never be like 'That's how things are,'" Darré said. "If and when something occurs, my hope is that every employee knows exactly how to react to it [and] knows it's not tolerated and not the culture we're promoting."
The policies notably don't only apply to staff. Borrowing an idea from North Carolina-based chef Ashley Christensen, Pomegranate will require visiting chefs and sommeliers to sign a letter agreeing to the zero-tolerance policy. Meanwhile, diners who behave inappropriately will be disinvited. "The customer isn't always right," added Shaya.
Despite the good intentions, Saru Jayaraman, the co-founder and president of the Restaurant Opportunities Center United, who has become a noted leader in advocating for the protection of restaurant workers, argues that policies aren't enough. "It's good to have a plan and good to have a policy, undeniably. But across the board … you're hearing it's not enough." She worries about inappropriate behavior, particularly in a state like Louisiana where the tipped minimum wage for workers is as low as $2.13 an hour, a number that has been linked to high rates of sexual harassment.
While Shaya declined to comment on the hourly rates of his team, he said in an email: "We have decided to pay our non-tipped team members more than we have in the past to begin to equalize the pay gap between tipped and non-tipped team members." He added that he's open to "all possibilities for change in the future."
What to expect from Saba and Safta
When Saba opens in April, don't expect it to be Shaya 2.0. It's not just the policies that Shaya and his team are changing — the food will also represent a shift. "We obviously want to cook the food we were cooking before, but we're looking at it from a different lens," said Zachary Engel, the group's culinary director. The team will push the boundaries of Israeli food, allowing local ingredients like shellfish to weave their way into the menu. Seafood will also show up during brunch in a Saba sampler with smoked salmon, sable, whitefish salad and bagels, alongside an Israeli breakfast spread of shakshuka, salads, an Iraqi omelette, and a pastrami and egg sandwich. In Denver at Safta, expect a market hall for lighter fare and a somewhat more traditional menu to ease locals into the team's cooking, Engel added.
What goes on behind the scenes at both restaurants will be the real test of Shaya's new direction and his ability to clear a path for others in the restaurant industry to follow. Anderson, who isn't certain if he'll review Saba for a host of reasons, said, "I've been covering restaurants since 1996 and I don't recall having seen another restaurant company [that's put these types of goals] so much front and center of their mission statement."
Shaya, however, is quick to say that he isn't aiming to invent an entirely new system — and he's aware that industry-wide change will take work and won't happen overnight. He hopes to eventually share his policies widely. "If that can help another restaurant-owner, or another chef, or another manager, or if it can just help anyone who reads it understand that our industry is more than just food and beverage, then I think it's worth it."