'RuPaul's Drag Race' season 10, episode 2: Kalorie Karbdashian Williams exit interview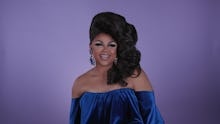 Two down, 11 to go.
After narrowly escaping elimination during week one, denim-jumpsuit-loving Kalorie Karbdashian Williams was the second queen to sashay away in week two of RuPaul's Drag Race season 10.
"I feel like a failure," Williams told the girls backstage during Untucked, just moments before her final lip sync. "New Mexico, we don't have drag ... I'm here representing my state and it sucks that they told me that I was forgettable because back home, bitch, I am somebody."
"Kalorie is a fantastic queen who clearly needs more time to grow," Them's John Paul Brammer wrote of the contestant's limited but memorable time on the show. "Karbdashian Williams would have made it much farther in another season," Vulture's Bowen Yang and Matt Rogers wrote in their recap. "Kalorie's lip sync was sweet, but comparatively empty," the New York Times' Amanda Duarte lamented in her rehash of the episode.
All this to say that while Karbdashian was an early evictee, her promise of a bright career ahead is hardly dim. Mic spoke with Kalorie following Thursday night's episode about the elimination and what's next for her drag career.
Mic: Gotta start by asking, how are you feeling this morning?
Kalorie Karbdashian Williams: I am feeling fantastic. I know, granted everything that happened, I should be in a pool of my own tears, but I'm actually feeling very, very fantastic today.
You seemed particularly annoyed with the other girls when you went backstage for Untucked. What were you feeling in that moment?
KKW: I was annoyed because I felt like everyone was talking to each other about everything that was going on and normally, you know, they ask, "Who's in the bottom and how are you feeling?" And I was really emotional from everything that the judges were saying about me being forgettable, so being back there when no one was paying attention to me, it kind of set everything into full-circle motion and making me think, "I guess I am that forgettable," that they can't even ask me or talk to me about what's going on.
You and Eureka both seemed obviously shook at the prospect of going home, but equally so at the idea one of you would be knocking the other one out of the competition. Can you talk about that big girl bond you two shared?
KKW: Being in the work room with Eureka, we kind of just gravitated toward one another. It could just be because we're both big girls, but she was a really good support system. And then, of course, conversations we would have, I felt like her and I started to build a really strong friendship.
I think the world is just harder on bigger people. When you're bigger you have certain standards to live up to, especially in the gay community, body-wise. Especially when it comes to drag, there's just a whole other level. And that's why I try to wear stuff that isn't necessarily big girl conducive. For instance, last night I was wearing a latex gown. "Oh, big girls shouldn't be in latex." I don't care! Yes, it's going to hug every curve of my body, but I don't care. I'm going to wear it because I want to. But certain things I feel we get more grief from, for sure.
You mentioned how important it was to be repping New Mexico. For those who are unaware, how would you describe the drag scene there, and what makes it unique?
KKW: The drag scene in New Mexico is very different because we're such a rural area; we kind of pull from different places. A lot of times Texas drag comes into our type of style when it comes to the heavy makeup and the big hair. It's hard to explain. ... New Mexico drag is just one of those things you have to experience. Albuquerque drag is just one of those things you have to experience.
Do you think it's a disadvantage, not coming from a bigger city known more for its drag scene?
KKW: I do feel like being from a bigger city gives you more of an advantage, because a lot of the time, girls in bigger cities have access to these fashion designers who can make them these extravagant costumes — whereas back home, we don't have those. We have like a seamstress. But as Monét X Change said, "A seamstress does not make a designer." Whereas someone like me, I have to make my costumes myself. And as we learned from the first challenge, I am clearly not a designer. [Laughs]
Who are you rooting for this season now that you're gone?
KKW: I am rooting for two people, they are the O'Haras. Mainly because Eureka is a big girl. Call my bias, but I think it's damn time a big girl win RuPaul's Drag Race. ... I would also say Asia, because she is one of my inspirations and has been for a long time. Those are my two girls. I would be OK with either one of them.
Let's be shady for a sec. Anyone you're not rooting for?
KKW: [Thinks for a long time] Honestly, no. I can't really say that I'm not rooting for anyone. I was not rooting for anyone in the beginning, but that's 'cause I wanted to win. But honestly, it's such a powerhouse season that it's so hard to say. 'Cause usually when you see a girl, you think, 'I totally don't want her to win,' but really, with this group, I don't have anybody.
Looking back at this experience as a whole (both the filming and the airing of the episodes), what was the high and what was the low?
KKW: The high, as cliché as it sounds, would be that I was there, that I got to do it. The low would be having to be in the bottom all of the time. [Laughs] Because it really does put you in this mindset of questioning your drag, things that I was once so confident about. It puts you in this mindset of, "Oh, great, I should probably re-evaluate everything."
How has your drag evolved since your time filming the show?
KKW: Even in this short, short amount of time, my drag has grown tremendously. I look at old pictures and I don't even feel like I'm the same person anymore. It's evolved in a way of ... kind of like what the judges were always saying, my attention to detail has definitely improved a lot more.
What's next for you?
KKW: Taking over the mothertuckin' world. I want to start dabbling in different things. I want to take this platform and try music, try new merch ideas, maybe even try to do a music video. I want to take this for a ride and try to see where everything goes.