Donald Glover's animated 'Deadpool' series got scrapped — so he released a script on Twitter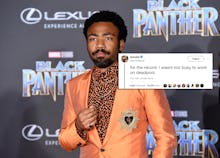 Donald Glover doesn't seem too pleased with the recent cancellation of his animated Deadpool series — and in a chaotic streak reminiscent of Deadpool himself, Glover released the draft script for an episode of the series online.
Saturday, news broke that Marvel Television, FX and Glover have scrapped plans for an animated Deadpool series over "creative differences," according to Variety. The series — which was given a 10-episode order in 2017 and was a collaborative effort between Glover and his brother, Stephen Glover, with whom he works with on FX's Atlanta — was originally supposed to air on FXX. Marvel TV and FX already have a relationship, thanks to the ongoing live-action X-Men series Legion.
Following the news release, Variety speculated the Deadpool series may have been "a casualty of Donald Glover's packed schedule," noting that Glover, who also records music under the name Childish Gambino, has a number of upcoming film and television appearances, including Atlanta, Solo: A Star Wars Story and the new live-action Lion King. It appears Glover saw this speculation floating around, and Wednesday morning, he decided to set the record straight via Twitter.
He didn't stop there: In a lengthy Twitter thread, Glover tweeted out screengrabs of a script for an entire episode of the Deadpool animated series. As is customary for Deadpool, the script is highly self-aware, referencing things in the news, like the cancellation of the series itself — and, more importantly, the ongoing mystery of who bit Beyoncé's face. (At one point, Deadpool's reading through gossip blogs on his phone, saying "Oh, thank god. It was Jennifer Lawrence. I already hate her. It's fine.")
Toward the end of the episode, in which Deadpool is tasked with watching over Sudan — the last living male white northern rhino, who died in Kenya on March 19 — Deadpool tries to save face about the cancellation.
"You know, I'm not mad about this whole 'canceled' thing," Deadpool says to Sudan. "I actually think it's a good thing. I mean, is it even a good time to have a violent, gun-loving white man ranting on TV? Other than the PRESIDENT! If this was Last Week Tonight, people woulda laughed."
At one point, Deadpool asks the question that's sure to be on some minds: Was it racism?
"Do you think they canceled the show... cause of racism?!" Deadpool asks Sudan, who never responds, because he's a rhino. "Yeah, but all the writers were black. And the references were pretty black too... You're right. Black Panther."
Later, Deadpool offers up more specifics, potentially shedding light on why negotiations between Glover and Marvel fell apart.
"It just feels like everyone wants something different, but no one wants to do anything different to get it," Deadpool says. "Doesn't Marvel have enough feel-good minority shows everyone supports but doesn't watch? I mean, I think our show woulda been funny. I just wanted a place to be honest. ... And I guess that place is Freeform."
With this animated series now dead and gone, the next place to see the Deadpool character will be in Deadpool 2, a sequel to the 2016 live-action Deadpool film starring Ryan Reynolds, which hits theaters May 18.
Glover's entire Twitter thread with episode's script is below.
March 28, 2018, 11:00 a.m.: This story has been updated.