Donald Trump says there's a "good chance" North Korea will denuclearize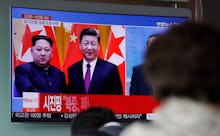 Welcome to Mic's daily read on Donald Trump's America. Want to receive this as a daily email in your inbox? Subscribe here.
Here's what's happening in Trump's America:
• President Donald Trump says there's a "good chance" North Korea will denuclearize.
• Trump wants to use money from the military's budget to pay for his border wall.
• House Republicans want to introduce a balanced budget amendment after they voted for deficit-exploding legislation.
• Trump has no public events for the third straight day, in what looks like a move to avoid the Stormy Daniels scandal.
Today's question: Do you think North Korea will denuclearize, or is this a big bluff?
Please email us at trumpsamerica@mic.com with your thoughts.
About last night: North Korea ready to denuclearize?
Tuesday was, dare I say it, a relatively quiet day compared to the daily chaos of the past 14 months of Trump's presidency.
Chinese state media confirmed late Tuesday night that North Korean leader Kim Jong Un traveled to China to meet with Chinese President Xi Jinping.
Kim reportedly told Xi that he is "committed to denuclearization," but that conditions will apply, CNN reported.
"The issue of denuclearization of the Korean Peninsula can be resolved, if South Korea and the United States respond to our efforts with goodwill, create an atmosphere of peace and stability while taking progressive and synchronous measures for the realization of peace," Kim reportedly said.
On Wednesday morning, Trump confirmed Xi reached out to the White House about the meeting. Trump said he looks forward to his own meeting with Kim, adding that there is a "good chance" Kim will agree to denuclearize.
Sanctions will remain on North Korea for the time being, Trump said.
"Received message last night from XI JINPING of China that his meeting with KIM JONG UN went very well and that KIM looks forward to his meeting with me," Trump tweeted. "In the meantime, and unfortunately, maximum sanctions and pressure must be maintained at all cost!"
Today in Trump's America: Trump wants to build a wall, and have the military pay for it
So much for Trump's campaign promise that Mexico would be paying for his proposed border wall.
According to reports, Trump has privately floated taking some of the military's budget to pay for the physical border wall between the U.S. and Mexico.
The proposal to shift military funding to his pet wall project is unlikely to happen. Congress has the power of the purse, not the president. And Trump cannot unilaterally move funds designated for the military to an unrelated project. Taking those funds from the military would require congressional approval — which he's unlikely to receive.
It is notable that Trump even suggested using military funding for the wall, given that he's previously noted the import of increasing military spending.
Capitol Hill happenings: Balanced budget?
House Republicans, who voted for a budget-busting tax reform bill and a $1.3 trillion government funding bill, plan to introduce a balanced-budget amendment when the chamber returns April 10 from the Easter and Passover recess, Politico reported.
The amendment looks to be a pure political play for the GOP, which has railed against the national debt for years.
That's because actually balancing the budget would require massive cuts to entitlement spending — such as Social Security or Medicare — or a tax increase. And it's unlikely Republicans will do either of these things.
In fact, Republicans are talking about cutting taxes again later in 2018.
Politico reported that Republicans will try to put pressure on Democrats to make permanent the individual tax cuts from the tax reform bill that Congress passed in 2017. Currently, the individual tax cuts in that reform package are set to expire.
Making those tax cuts permanent would further balloon the debt, which doesn't fit with the GOP's proposed balanced-budget amendment.
Republicans think that putting the individual tax cuts up for a vote in 2018 will put Democrats in a bad political position ahead of the midterm elections.
"Can you imagine Democrats voting that down? I mean, how do you explain that one?" Senate Majority Whip John Cornyn (R-Texas) told Politico. "I just think they'd be in an impossible position. They'd have to support it."
And the rest...
Special elections: Democrats came within 5 points of flipping a state legislative seat in Alabama. Trump carried the district by a 22-point margin in 2016. This is yet another sign of a potential Democratic wave in November.
Stormy Daniels: The porn actress' lawyer filed a motion to depose Trump and his personal lawyer, Michael Cohen, about the hush agreement Daniels signed, the Washington Post reported. A deposition would force Trump and Cohen to answer questions under oath about whether Trump was aware of the agreement Daniels signed.
More staff upheaval: Veterans Affairs Secretary David Shulkin knows he's on borrowed time, and that his ouster is coming, according to the Washington Post. The question that remains is how much longer he has.