Cynthia Nixon pulls a "nasty woman" and puts "unqualified lesbian" on her first gubernatorial merch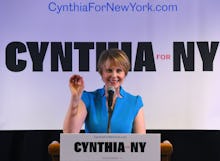 We knew Miranda or, rather, actress Cynthia Nixon, wouldn't do us wrong when it came to the merchandise for her gubernatorial campaign. How could a woman who could pull off denim overalls with just as much finesse as a power suit on Sex and the City do us wrong? Unthinkable.
On Tuesday, Nixon's campaign debuted her first line of merchandise, which comes emblazoned with the words: "unqualified lesbian."
The dig came one day after Nixon announced that she would be running for New York's governor, when former city council speaker Christine Quinn, who is a lesbian and a supporter of Andrew Cuomo, said in an interview with the New York Post: "Cynthia Nixon was opposed to having a qualified lesbian become mayor of New York City. Now she wants an unqualified lesbian to be the governor of New York."
At her campaign kickoff event at the Stonewall Inn, Nixon commented on the remark, saying, "When I announced yesterday that I'm running for governor, one of Cuomo's top surrogates dismissed me as an 'unqualified lesbian.'"
With buttons and soon T-shirts, as the campaign confirmed on Twitter, Nixon has pulled a "nevertheless, she persisted" and a "nasty woman," meaning that she's taken a criticism of her, and turned it into a strategic rallying cry.
As Racked reported, political campaigns are now designing campaign merch that looks eerily similar to merch from trendy brands with huge young and cool followings like Glossier and Outdoor Voices.
Nixon's first merch has that sort of effect, with a minimal approach and font. It is also funny, which is a rare occurrence in political merchandise, for certain.
Maybe Nixon will feature poetic "slams" from her opponents on all of her merch, as only an icon would.