Roseanne Barr apparently tweeted about a conspiracy theory involving Parkland student David Hogg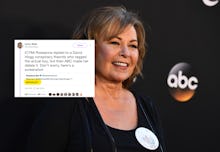 Much has been said about the fact that Roseanne Barr's iconic sitcom character, Roseanne Conner, is a Trump supporter in the new ABC revival of Roseanne — but the political beliefs of the real-life Roseanne are far scarier.
Tuesday evening — the same night that the premiere of the Roseanne reboot was seen by more than 18 million people — it appears Barr tweeted about a conspiracy theory involving David Hogg, one of the survivors of the February shooting at Marjory Stoneman Douglas High School in Parkland, Florida, who has since become an activist in the movement for stricter gun control. The tweet has since been deleted, but it's unclear whether ABC made Barr delete her tweet, as the tweet below alleges, or if Barr elected to delete it herself.
Mic did not see Barr's original tweet, but other users' responses to it are still up.
The conspiracy theory in question, which has been making the rounds in far-right circles on sites like InfoWars, alleges Hogg threw up his arm in a Nazi salute at a March for Our Lives rally on March 24. He was actually raising his fist over his head "as a classic symbol of defiance, solidarity and strength," per the fact-checking site Snopes.
This is not the first time Barr has waded into contentious political issues. Barr has posted — and subsequently deleted — many pro-Trump tweets, some of which echoed heavily debunked far-right conspiracy theories, according to the Washington Post.
Though this most recent tweet was scrubbed from her account, the screenshot will live on — and it's inspiring some Twitter users to post with the hashtag #BoycottRoseanne.
A spokesperson for ABC declined to comment.
March 29, 2018, 2:57 p.m.: This story has been updated.