Facebook announces redesigned privacy settings page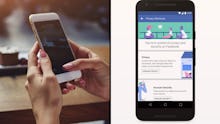 Facebook has announced changes to the privacy section of its settings page.
In an effort to fight blowback from the Cambridge Analytica revelations — when it was discovered that users' personal data was used to sway votes in the 2016 presidential election — Facebook has tidied up its privacy offerings. According to the site, the new privacy section has removed outdated settings options and made other options easier to find.
The new privacy pane lets users control what information is public, add two-factor authentication and even download a backup of their Facebook profile. While good, none of these features is new. What is new, however, is the Access Your Information page.
Facebook's new Access Your Information page lets users see and delete data like posts, reactions, comments and previous searches. The company's blog post does not clarify if this simply deletes data from the side of Facebook that the user sees or if it scrubs Facebook's servers completely.
Facebook's updated privacy options will arrive, according to the company, "in the coming weeks."