How one cancer survivor found her calling through helping style cancer patients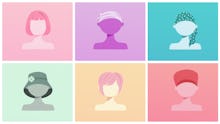 In the Detroit suburb of Pleasant Ridge, Michigan, next to a diner and across from a park, lies Susan's Special Needs. Inside you'll find a wide array of products for women going through cancer or radiation, including wigs in the hundreds, scarves, hats, skincare, swimsuits, mastectomy bras, compression bras and breast forms. An emporium of sorts, the other thing Susan's offers is a safe space for anyone who feels lost amidst a diagnosis or recovery.
For the store's founder Susan Thomas, a former oncology nurse and breast cancer survivor herself after a 1992 diagnosis, the store is her calling. She wanted to make sure that no one's journey and fight through cancer would be like her own.
"My true issue was I wanted the journey to be different for those who followed me," Thomas said in an interview. "My journey through cancer was very stiff, because there weren't products and services. There was no one to talk to. The purpose of the store is trying to change the journey because it's the right thing to do."
Despite specializing in cancer as a nurse, when she was faced with her own diagnosis, she felt lost. "Not for one moment did I ever ask my patients how they felt about their hair loss, their mastectomy or where they got their products," she said.
That's how the idea for Susan's came to her. She wanted to create a place that offered not only necessary products, but information, expertise and compassion to cancer patients and survivors. She wanted to, in her words, "take care of the people the way I'd want to be taken care of."
In a retail era that hasn't exactly been kind to physical stores, with retailers like Sears and Macy's shutting doors across the country, Susan's — which opened its doors in 2000 — is one of those rare exceptions that has offered services that can only be experienced in-person — for more than 15 years now.
"In retail today, there are plenty of stores that would welcome somebody with a Visa card who needed a wig," Thomas said. "It's up to me to set the tone."
Susan's not only sells wigs, but has someone there to cut the customer's hair, give a scalp massage and fit them repeatedly until it's just right. She not only sells mastectomy bras, but has three private fitting rooms where stylists can help find the right bra, breast form or scarf to match the customer's personality. With a staff of stylists and cosmetologists, someone is always there to give you their full attention.
Her longtime customers can attest.
"I know when I needed my first compression bra, I was sent to the hospital and it was like, 'O.K., this kind of fits you, it'll be fine,'" Lynn Cooper, who's been a Susan's customer for more than a decade now after breast and lung cancer diagnoses, said in an interview. "It's a box, you know? They're salespeople. They don't know what you're going through. They just want you to buy the product and get out of their way. At Susan's it's an experience."
What immediately adds to this sense of comfort upon walking into the store is that it looks nothing like a store that sells wigs and medical supplies. It is styled like a Parisian boutique, with murals of the French countryside painted along the walls.
"We didn't want it to look medical," Thomas said. "We did not want it to be obvious that you're walking past medical supplies. We wanted it to be comforting and warm and inviting. We have a fireplace with an electric fire where husbands can have a sip of coffee while their wives get fitted."
The private rooms, styled to look like salons with plush upholstered seats and tiled wall decor, offer often necessary moments of privacy, as customer Jacqueline Kerr, a high school math teacher who first went to Susan's in September after a breast cancer diagnosis, experienced herself.
"I had decided to get my hair shaved, and I was very self-conscious," Kerr said in an interview. "I was able to be alone at that time, and they were very respectful. I was able to find a wig that would match the hair I had at the time, and do it privately." Kerr goes now back every month to get her wig styled in the store.
What sets Thomas apart from many other people selling the same medical products is the understanding she has of the women — and men sometimes, too — who need her help when it comes to using style and fashion to feel like themselves again.
"I think going through treatment and losing your hair or losing your breast or having reconstruction, it changes you completely," Thomas, who had to wear mastectomy bras herself in the '90s, said. "Women see themselves in a certain way, and when that perception changes due to treatment, this store provides the opportunity to restore a healthy perspective of how you look. It gives you the confidence and courage to keep moving forward. I'm just so honored to help them."
That level of compassion has created a community of people around Pleasant Ridge that see Thomas as their angel, including Cooper.
"There's the empathy, the compassion — the kindness oozes out of her," Cooper said. "The knowledge base that she has.... just by holding your hand or touching your arm, comfort goes through your body. If I had a question or just needed to sit, that's where I went."
In reality, Thomas often serves as a confidant to her customers, calmly guiding them step by step. Days ago, one woman called Thomas sobbing, and Thomas did what she considers her job.
"She wanted to come in for a wig," Thomas said. "She worked part-time at Lowe's. She had no money. Within the first 15 minutes, I had her calmed down because I reassured her that I could help her. I can't duplicate that. I was able to say, 'I don't want you to worry. Whenever you can come in, we will take care of you.'"
If that woman does decide to come in, Thomas and her staff will be ready.