Trump's lawyer may have offered Flynn, Manafort pardons to keep them from cooperating with Mueller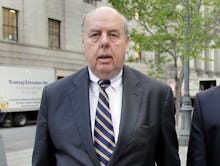 John Dowd, the former lead attorney for President Donald Trump in the Russia probe, may have floated the idea of presidential pardons for former Trump staffers Michael Flynn and Paul Manafort to stop them from cooperating with special counsel Robert Mueller's ongoing investigation.
According to the New York Times, Dowd allegedly discussed a potential pardon with an attorney representing Flynn, Trump's former national security adviser, in the summer of 2017. Dowd reportedly discussed the possibility with Manafort's attorney sometime before the ex-campaign chairman's indictment in October.
The allegations suggest Trump's legal team is concerned about what Flynn and Manafort might tell Mueller and that it may have attempted to dangle a pardon in exchange for their refusal to cooperate with Mueller.
Flynn pleaded guilty in December to lying to the FBI about his 2016 Russia contacts and has been working with Mueller since.
Manafort has pleaded not guilty to a range of charges, including conspiracy against the United States. His former associate, Rick Gates, who served as deputy director of the Trump campaign, pleaded guilty to one count of conspiracy against the U.S. and one count of lying to the FBI as part of a plea deal with the special counsel.
Mueller has been leading an intensifying investigation into alleged collusion between the Trump campaign and the Kremlin during the 2016 president election, as well as possible obstruction of justice on the part of the president.
Trump has long been hostile toward the probe, which he has frequently dismissed as a "witch hunt." It was reported in July that Trump was exploring the limits of his pardoning power, raising the specter that he may attempt to pardon associates — or even himself.
Dowd, who resigned from Trump's legal team Thursday as the president shifts toward a more aggressive strategy on the Russia probe, denied at the time that Trump was researching his pardoning power. Still, after Flynn's guilty plea, the president indicated a possible Flynn pardon was on the table.
"I don't want to talk about pardons for Michael Flynn yet," Trump told reporters in December. "We'll see what happens. Let's see. I can say this: When you look at what's gone on with the FBI and with the Justice Department, people are very, very angry."
It's unclear whether the president or other members of his legal team were aware of Dowd's alleged conversations with attorneys for Flynn and Manafort, according to the Times.
For his part, Dowd strongly denied having had the discussions.
"There were no discussions. Period," Dowd told the Times. "As far as I know, no discussions."