This young progressive is teaching Americans how to run for office — by challenging Nancy Pelosi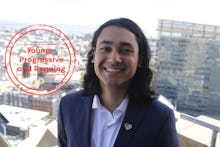 When 2017 began, Ryan Khojasteh still had more than a year left ahead of him in law school. After the election and inauguration of President Donald Trump, however, Khojasteh decided he and his generation couldn't idly watch the country continue down its current path — he rearranged his schedule so he could graduate early and run for Congress.
Khojasteh doesn't live in just any congressional district — he grew up and still lives in California's 12th District, which is represented by former speaker of the House and current House Minority Leader Nancy Pelosi (D-Calif.).
"Leader Pelosi is someone that I respect, that I voted for in the past," Khojasteh said in an interview with Mic. "But at the end of the day, she is a representative of the party that needs to change and that is not changing."
The 2016 election "was a moment of reflection because voter turnout was down, people couldn't trust the Democratic establishment as much as they could before and we didn't have an economic message we can relate to working families," he said.
Khojasteh said he's not trying to frame his campaign around Pelosi but around a positive message about a new and diverse generation of Democratic leadership in Congress. And like the teenage survivors of the mass school shooting in Parkland, Florida, in February, Khojasteh isn't letting his age stand the way of making change happen.
Members of Congress are required to be at least 25 years old. Khojasteh will turn 25 on Nov. 1, just five days before the election. If elected, Khojasteh would then finish law school in December, just weeks before the new Congress is seated in January.
Khojasteh said he's running to represent San Francisco's increasingly diverse and increasingly young population. "There's no voice for that generation, or for those experiences, or for immigrant background," he said.
Should he win, Khojasteh won't be the youngest person ever elected to Congress. In 1797, when he was only 22 years old, William Charles Cole Claiborne ran for the House seat vacated by Andrew Jackson. Though he failed to meet the constitutional age requirement, Congress seated him anyway, both that year and when he ran for re-election at age 24.
Khojasteh, for his part, isn't shying away from talking about his youth. In fact, he's embracing it by using his campaign as a model to teach other young people how to run for office. Each week, Khojasteh's campaign puts out a new "episode" of an instructional video on how to run for office.
Each video walks through a step of how to set up a campaign. Khojasteh hopes the video series will be used to help more young grassroots campaigns get off the ground by showing candidates how to build a campaign without necessarily relying on established party organizations.
"Everything we've been learning, we've been putting on the video series," Khojasteh said. "For example, the DNC recommends you use a service for voter data called PDI. It costs you $8,000 every three months. Or you could go to your county Department of Elections, fill out an application and for 75 cents, get all that data on a CD that you have on that cell document."
But Khojasteh isn't just running for show. His campaign is staking out bold positions on issues progressives care about and working to build ties with community groups in his district.
The son of Iranian dissidents who fled Iran during the revolution in 1979, Khojasteh said he feels a strong connection to San Francisco's immigrant community.
In 2017, the San Francisco Board of Supervisors appointed Khojasteh as an immigrant rights commissioner, tasked with helping to improve the quality of life and civic engagement of the city's immigrant community. Shortly after he took the position, Trump announced a ban on individuals traveling from certain Muslim-majority countries — affecting many of Khojasteh's family members who were still in Iran.
Trump's railing against the process of family reunification, referring to it derisively as "chain migration," began to take a toll.
Khojasteh recalled watching Democrats in Congress during that moment and wishing they would have fought harder for immigrant communities across the country. As the year went on, he watched as Democrats prioritized passing a bipartisan agreement over holding out for a deal on the Deferred Action for Childhood Arrivals program, which protects undocumented people brought to the country as children.
In February, as Democrats in Congress were debating whether to shut down the government over protections for young undocumented immigrants, Khojasteh's campaign received the endorsement of Young Latina/o Democrats of San Francisco, a local grassroots organization, he said.
"I didn't get to know my grandparents, or my aunts, or my uncles, or my cousins," Khojasteh said, referring to his family members in Iran and U.S. immigration policy. "I had Christmases alone. We had Thanksgivings alone. That really affected my life and the fact that I had this big beautiful family thousands of miles away, that I hadn't seen in 14 years. That I've only seen three times in my whole life."
One week later, Pelosi made history by delivering the longest continuous speech in the House since at least 1909, railing against a bipartisan deal that did not address protections for young immigrants. Khojasteh said he isn't taking credit for what happened but thinks his campaign may have played a "small part in that equation."
Khojasteh has also joined the growing chorus of 2018 progressive challengers who believe Congress should defund U.S. Immigration and Customs Enforcement. He also supports creating taxpayer-funded deportation defense programs modeled on local San Francisco programs.
But immigration isn't the only issue in which Khojasteh's personal experiences have led him to support bold progressive policies.
After the 2008 financial crisis, Khojasteh's parents both temporarily lost their jobs. The experiences that followed helped affirm his belief that lawmakers needed to take drastic measures to expand the social safety net and help make college more affordable.
"When my mom lost her job — and she was the one who had the health care benefits — that wasn't easy," Khojasteh said. "So it bothers me that the Democratic Party is unwilling to actually fight for single-payer health care on that national level, which we need to do."
When Khojasteh entered college, he got a firsthand look at the economic challenges facing his generation, primarily the historic levels of student loan debt that he and others would carry with them for most of their lives.
"I went to college on a full tuition scholarship, right down the street from my house, Santa Clara University," Khojasteh said. "But I had to take student loans out to help pay rent for housing. And then, going into law school, I got a scholarship, but I still had to take out student loans for the rest of tuition and to pay for my housing in San Francisco because it's so expensive."
Today, Khojasteh uses his student loans to pay for his housing and living expenses while he races to finish law school at the University of California Hastings, where his apartment happens to be right across the street from Pelosi's district office. He estimates it could take him 40 years to pay back his loans in full.
For now, Khojasteh is focused on the next seven months, as he works to try and finish in the top two in California's unique jungle primary system, which would allow him to square off against Pelosi in the general election in November.
To do that, he'll have to finish ahead of the two other progressive Democrats challenging Pelosi — DJ/civil rights lawyer Shahid Buttar and attorney Stephen Jaffe — as well as Republican candidate Lisa Remmer.
Khojasteh believes if he can make it to the runoff he can start to earn national attention that will inspire other others members of his generation to run for office.
"I just hope that young people will believe that they can be candidates for office too one day," Khojasteh said. "That's the future of the Democratic Party, and we shouldn't wait around for the powers that be to vet us because our future is now."