David Shulkin burns Trump on the way out: "It should not be this hard to serve your country"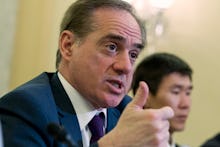 Welcome to Mic's daily read on Donald Trump's America. Want to receive this as a daily email in your inbox? Subscribe here.
Here's what's happening in Trump's America:
• Yet another Trump administration official is out, after President Donald Trump fired Veterans Affairs Secretary David Shulkin.
Today's question: Will Trump be able to shepherd through an infrastructure plan before the midterm elections?
Please email us at trumpsamerica@mic.com with your thoughts.
About last night: "It should not be this hard to serve your country"
It's still March Madness at the White House, as the revolving door spun again on Wednesday evening, leading to the ouster of the third Trump Cabinet official, Veterans Affairs Secretary David Shulkin.
Trump fired Shulkin and announced he's nominating Rear Adm. Ronny Jackson for the role. Shulkin received a phone call Wednesday from White House Chief of Staff John Kelly regarding his termination.
Jackson, who has served as the White House physician for the past three presidential administrations, is best known for his news conference in which he gave the country an update on Trump's health.
While Jackson is beloved in his role as a physician, many are questioning whether he has the experience to lead a massive bureaucratic agency like the VA.
Axios' Jonathan Swan said Republicans are predicting Jackson might have a tough time being confirmed for the role, and compared Jackson to Harriet Miers, the Supreme Court nominee former President George W. Bush who was forced to withdraw as a result of her lack of experience and accusations of cronyism given her close ties to Bush.
Shulkin burned the Trump administration on his way out, saying it's turned the VA into a toxic environment besieged by power struggles that left administration officials trying to force Shulkin out.
"I have been falsely accused of things by people who wanted me out of the way," Shulkin wrote in an op-ed for the New York Times published Wednesday night. "But despite these politically based attacks on me and my family's character, I am proud of my record and know that I acted with the utmost integrity. Unfortunately, none of that mattered."
Shulkin added that the Trump administration is pushing to privatize VA health care — a topic sure to spark an outcry in the veteran community. And he finished the op-ed with a final jab at Trump.
"As I prepare to leave government," Shulkin said, "I am struck by a recurring thought: It should not be this hard to serve your country."
Today in Trump's America: Infrastructure week all over again
Trump will travel to Ohio on Thursday afternoon to deliver a speech on infrastructure at a training site for members of the International Union of Operating Engineers.
"Following on the success of tax reform, infrastructure is the next piece of the president's successful economic agenda," White House press secretary Sarah Sanders said at Wednesday's briefing.
Trump has been trying to lead a push for infrastructure spending for months.
The first infrastructure week was in June 2017, and it quickly went off the rails (pun intended) thanks to Trump's focus on everything but infrastructure — such as the travel ban and a terrorist attack in London, which Trump attacked the mayor of London for.
He called for Congress to pass a $1.5 trillion infrastructure bill in his State of the Union address in January.
In February, Trump released the full text of that plan. However, the president and the chaos that surrounds him has continually gotten in the way of a tight infrastructure focus, leading the topic to become something of a running joke among the press corps.
After the speech, Trump will head to Palm Beach, Florida, (again) to spend the Easter holiday at his Mar-a-Lago resort.
Capitol Hill happenings: House GOP continues crusade against Russia probe
Rep. Devin Nunes (R-Calif.), chairman of the House Intelligence Committee, continued his pushback against the Russia investigation Wednesday night, threatening to hold DOJ officials in contempt if they do not turn over documents related to their use of Foreign Intelligence Surveillance Act warrants.
"We should move quickly to contempt [of Congress] and then we should move to impeachment," Nunes said on Sean Hannity's show on Fox News, referring to ousting DOJ officials responsible for handing over the documents.
For months, Nunes has been railing against the FISA warrant the DOJ obtained against former Trump campaign aide Carter Page, claiming the warrant was improperly obtained and used as the catalyst to launch the investigation into Trump's possible ties to Russia. The claim was an effort to discredit special counsel Robert Mueller's investigation, which has already led to multiple indictments and guilty pleas, and appears to be closing in on Trump himself.
Nunes authored a memo on the FISA warrants that was billed as a bombshell report, but was ultimately laughed off as a nothingburger once it was released. In fact, the memo confirmed that the Russia investigation was not even started because of the Page FISA warrant.
And the rest…
Mueller probe: The New York Times reported that John Dowd, Trump's former lead attorney in the Russia probe, raised the idea of pardoning former Trump staffers Michael Flynn and Paul Manafort in an effort to keep them from cooperating with Mueller. The revelation is a possible piece of evidence in Mueller's ongoing look into whether Trump obstructed justice.
Leadership jockeying: Politico reported that Republican members of Congress are already maneuvering to replace Paul Ryan as House speaker. Ryan is rumored to be mulling retirement.
Korean summit: North and South Korea have reportedly set the date for a historic summit between the two countries. North Korean leader Kim Jong Un will meet South Korean President Moon Jae-in on April 27 to discuss getting North Korea to denuclearize, the Associated Press reported.