Russia boots American diplomats in retaliation for US response to alleged spy poisoning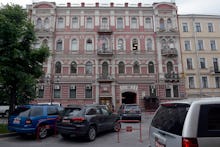 The Kremlin on Thursday reportedly expelled 60 American diplomats and shuttered the United States consulate in St. Petersburg over the Trump administration's response to the poisoning of ex-Russian spy Sergei Skripal in Britain in early March.
The 60 Americans are among the 150 western diplomats to be expelled by the Russians.
The move came days after the White House announced that President Donald Trump would boot Russian intelligence officers over the March 4 attack on Skripal, who was convicted in 2006 of spying for the United Kingdom against the Kremlin.
British Prime Minster Theresa May said earlier this month that Russia was behind the nerve agent attack on Skripal and his daughter.
"Today President Donald J. Trump ordered the expulsion of dozens of Russian intelligence officers from the United States and the closure of the Russian consulate in Seattle due to its proximity to one of our submarine bases and Boeing," the White House said in a statement Monday.
The tit-for-tat expulsions come amid heightened tensions between Russia and the West — and as federal law enforcement continues to investigate Moscow's interference in the 2016 U.S. election and possible collusion on the part of the Trump campaign.
Trump, who has frequently adopted a warm stance toward Russian President Vladimir Putin, has railed against investigators, repeatedly describing the probe as a "witch hunt."
Skripal, 66, had been sentenced to 13 years in prison in 2006 for identifying Russian agents to British intelligence, but was released in a spy exchange between Russia and the U.K. in 2010.
The double-agent and his 33-year-old daughter, Yulia, were found unconscious on a bench in a Salisbury, England, shopping mall earlier this month.
Russia has denied any involvement, despite a long history of political murders.
A friend of Skripal and his daughter suggested earlier this week that the two were so ill from the attack that "death would probably be merciful." However, it was reported Thursday that Yulia Skripal had emerged from critical condition. The elder Skripal remains in critical but stable condition.