Adnan Syed of 'Serial' has been granted a new trial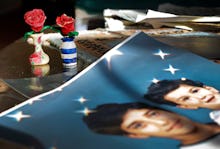 Adnan Syed, whose trial and conviction for murder some 18 years ago were chronicled in the podcast Serial, is one step closer to a new trial. On Thursday, CBS Baltimore reported that the Maryland Court of Special Appeals released its decision on the Adnan Syed v. State of Maryland case, upholding a judgment by a circuit court to give Syed another trial.
Thursday's decision is a result of a 2016 ruling in which a judge vacated Syed's 2000 conviction. That judge also ruled that Syed should get a new trial because his attorney at the time of his original trial had neglected to question a potentially significant witness: a former high school classmate of Syed's, Asia McClain, now Asia Chapman.
Chapman was featured heavily in the 2014 podcast Serial, hosted by This American Life alum Sarah Koenig, which detailed Syed's arrest, trial and conviction for the 1999 murder of his classmate and ex-girlfriend, Hae Min Lee, whose body was found buried in Baltimore's Leakin Park. Syed was 17 at the time he was found guilty and given a life sentence.
Koenig's telling of Syed's case questioned the state's evidence against him and focused several episodes on Chapman, who said she had seen Syed at the library at the time Lee's murder was said to have taken place — giving him an alibi. Syed's lawyer at the time, Cristina Gutierrez, never had Chapman take the stand as a witness.
The massive popularity of Serial drew attention to Syed's case — and supporters for Syed, who has continually maintained his innocence. A 2014 BuzzFeed poll found that only 11% of listeners believed Syed was definitively guilty.
Syed's current attorney, Justin Brown, tweeted out a jubilant, "We won the appeal," on Thursday after the court upheld the decision to grant Syed a new trial. But, as the Baltimore Sun reported on Thursday, this latest decision could still be appealed. In a statement to the Sun, the office of Maryland Attorney General Brian Frosh said it was "currently reviewing today's decision to determine next steps."