Who's Sorry This Week? Laura Ingraham, Savannah Guthrie, Groupon and other public apologies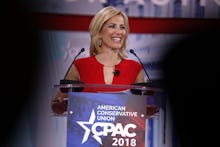 Another week, another deluge of apologies.
In "Who's Sorry This Week?" Mic tracks down the most prominent mea culpas from celebrities, companies and other public entities trying to make amends for their various screw-ups.
This week had no shortage of apologies, so let's get right to it.
Laura Ingraham is sorry for making fun of Parkland shooting survivor David Hogg for not getting into some colleges he applied to
Wednesday, Fox News host Laura Ingraham tweeted an article from the Daily Wire about David Hogg, a survivor of the February shooting at Marjory Stoneman Douglas High School in Parkland, Florida, who has since become an outspoken advocate for stricter gun control.
"David Hogg Rejected By Four Colleges To Which He Applied and whines about it," Ingraham tweeted. "(Dinged by UCLA with a 4.1 GPA...totally predictable given acceptance rates.)"
Almost immediately, Ingraham came under widespread criticism for mocking the collegiate aspirations of a student who has been thrust into the spotlight as a result of being involved in a mass shooting.
In response, Hogg himself tweeted a list of Ingraham's top sponsors, imploring his followers to contact them and ask them to pull support for her in light of her comments.
In the days since, numerous advertisers have distanced themselves from Ingraham, including Nestle US, Hulu, Nutrish, TripAdvisor, Expedia, Wayfair and Johnson & Johnson, according to NPR.
"In the spirit of Holy Week," Ingraham tweeted an apology on Thursday.
Groupon is sorry for using a racial slur in a product description for a pair of suede boots
Wednesday, Groupon came under fire from a number of users on social media who noticed something odd: Pairs of suede boots for sale on their site were available in a number of shades, including "nigger-brown."
The listings for the boots have since been taken down, and Groupon issued an apology, saying the use of the racial slur came from Xularo, a third-party that sold items on Groupon's site, according to the Daily Beast.
"We are appalled that this language was displayed on our site," a spokesperson for Groupon said, per the Daily Beast. "This product description was provided by a third-party seller via our self-service platform. Regardless, this is completely unacceptable and violates our policies — to say nothing of our values. When made aware of the issue, we immediately removed the deal — as well as the third-party seller — from our marketplace. Language like this has no place on Groupon, and we're further strengthening our self-service controls to ensure it doesn't happen again."
Today show host Savannah Guthrie is sorry for saying "shit"
Wednesday, Today host Savannah Guthrie apparently didn't know she was on camera at an inopportune moment. During a live broadcast, according to Entertainment Weekly, she said "shit" while looking down at her notes, seemingly unaware her mic was on.
That same morning, Guthrie tweeted an apology for her slip-up.
Twitch streamer Ninja is sorry for rapping a racial slur during a broadcast
Tyler "Ninja" Blevins is a gamer who makes a living by playing video games live on the broadcast platform Twitch. He's best known for playing the Hunger Games-style battle royale game Fortnite, which he recently played with the rapper Drake for more than 600,000 concurrent viewers. What sets Ninja apart from most other professional streamers, according to the prevailing narrative, is that he actually seems like a pretty nice guy with a good head on his shoulders.
In a broadcast on Wednesday, Ninja started singing along to Logic's "44 More," when Blevins began to improvise some lyrics, according to Kotaku. In that time, Ninja dropped a racial slur.
Thursday, Ninja posted a series of apology tweets, characterizing the incident as a fumbling of lyrics.
"I promise that there was no mal intent (I wasn't even trying to say the word — I fumbled lyrics and got tongue tied in the worst possible way)," he said. "Again, I apologize for offending anyone and appreciate you all rocking with me."