Mayor Mitch Landrieu has a powerful message about race in America that everyone should hear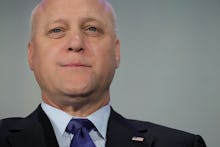 Mitch Landrieu, the Democratic Mayor of New Orleans, grew up among America's lingering confederate monuments. He's seen for himself the long, dark shadow those statues cast over our nation to this day. He says he knows that in order to ensure these monuments have no place in America's future, first we'll have to banish them to our past.
"It turns out that in our most public spaces, the very few that we have, we had these monuments of reverence to the Confederacy." Landrieu said. "It was pretty clear that they did not have a place in the history of New Orleans, much less the future of the city."
New Orleans removed its confederate statues, but hundreds more remain standing across our nation. Before we can get more Americans on board with the movement to topple each and every last monument to our country's slave-owning past, we'll have to reckon with the stain of racism in our present.
And that means starting a painful conversation about race — which might be tough for some.
"We have to find a way to [talk about this]," Landrieu said. "You can't go over this, you can't go under it, you can't go around it. You have to go through it, and we should start that conversation now."
In a powerful video op-ed for Mic, Landrieu is calling on you to confront our racist past in order to fight racism in our present. Watch it above.