The Ghanaian fashion revolution is here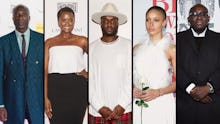 Last week, designer, DJ and longtime Kanye West creative director Virgil Abloh, a Ghanaian-American hailing from Chicago, became the first black artistic director for Louis Vuitton menswear.
The news was said to be a huge step for contemporary culture, as the 37-year-old would undoubtedly usher in a younger customer base for the 150-year-old Parisian brand. Abloh's loyal customer base has followed him from his days with Kanye West as the rapper's creative consultant to his time spent running the award-winning clothing label, Off-White.
For years, Abloh has been making fashion that's redefined streetwear like his collaborations with Nike, Vans, Moncler, Ronnie Fieg and even Levi's. He's a savant, but certainly not an anomaly.
In the same mold of Ghanaians with notable success in mainstream fashion are British Vogue's editor-in-chief Edward Enninful, father and son designers Joe and Charlie Casely-Hayford, models Adwoa Aboah and Philomena Kwao, womenswear designer Mimi Plange, menswear designer Ozwald Boateng — and many more. With roots in a West African country known for its fine tailoring, these talents have captured the art of mass appeal for the luxury market— but success has not come easy.
"I think their successes start with talent, the recognition and celebration of that talent by individuals who could magnify their exposure and customers who appreciate their aesthetic," Nana Brew-Hammond, the Ghanaian-American designer behind Exit 14 told Mic about Ghanaians in design.
A co-sign or seal of approval — like his LVMH Young Designers Prize nomination in 2015 — are key to climbing up the ranks of fashion.
"A designer based in Ghana will have a different experience than a designer living in another part of the world," Brew-Hammond said about challenges for emerging Ghanaian designers.
Seamstresses and tailors in Ghana complain about the difficulty in transitioning from dressmaker to designer. Many have the creative vision to design ready-to-wear and couture, but because it is relatively cheap for a certain class of people to come up with the designs they want themselves, many Ghanaian designers find themselves either executing their clients' original sketches or translating magazine or catalog styles. All at the behest of their customers, stuck in a labor-intensive cycle of creating one-off items.
The struggle is real when it comes to being a designer of color. For Ghanaians, specifically, having a business based on the continent has its challenges — like the one presented above by Brew-Hammond. But for those in the United States or Europe, different challenges arise around branding, promoting and scaling one's brand — a challenge Ghanaians take head on.
"I love that as first-generation migrants in this Western World we've been able to blossom, as our parents often placed a large emphasis on education," William Adoasi, the founder of Vitae London watch company, said in an interview.
Hailing from London, Adoasi identifies with the plight of Abloh and other first-generation creatives. He believes the "moment" Ghanaians are having is a result of strong foundations from a people that have always worked hard and broken the status quo.
"I feel as a nation we've always been pioneers," said Adoasi. "The fact that we were the first African country to gain independence from the tyranny of colonization really highlights this. Although we're a small nation we always perceive ourselves to be larger and it's instilled in us to dream big dreams. Changing the game is in our DNA."
Parental guidance also has a lot to do with these success stories. Joe Casely-Hayford — cited as one of the United Kingdom's most respected and consistently relevant designers of men's and women's clothing — started his label in the mid-1980s and gained notoriety from his work with U2 and the Clash. In 2008 his son joined the business making luxury menswear. And Casely-Hayford's daughter is the digital editor at British Vogue.
"I believe a large reason [first-generation Ghanaians have] succeeded was the amazing foundation their parents would have established for them. They would have definitely grown up seeing parents working away extremely hard in an industry they may not have even been particularly passionate about," Adoasi said.
There's a strong chance also with design not being a path widely accepted by African parents as a stable environment that they would have had to work twice as hard to prove to their parents it was a viable path to venture. Having read into Virgil's journey I saw that he actually studied architecture, which would have pleased his parents and it's great to see he used it as a launchpad to move into fashion design.
On a global scale the moves Ghanaians are making really has the ability to change the diaspora for the better. In his interview with the New York Times, Abloh alluded to a little of what his appointment means for the culture.
"I want to use Louis Vuitton's history with travel to really look at different cultures around the world to help make all our humanity visible," he said. "When creativity melds together with global issues, I believe you can bring the world together."
Brew-Hammond has the same hope, but also believes there's chance to show a more accurate depiction of Ghana.
"I hope the high-profile appointments of Edward Enninful and Virgil Abloh challenge those dusty notions of what African fashion is and spotlight the incredible and innovative work designers in Ghana and across the continent are turning out. There is far more than just ankara, kente and mud cloth coming from the continent and Ghanaian designers from Nelly Hagan Aboagye of Duaba Serwa to Titi Ademola of Kiki are making everything from apparel to footwear."