Jeff Sessions won't appoint special counsel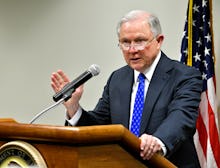 Welcome to Mic's daily read on Donald Trump's America. Want to receive this as a daily email in your inbox? Subscribe here.
Here's what's happening in Trump's America:
Attorney General Jeff Sessions declines to appoint a special counsel to look into the FBI's handling of the Hillary Clinton investigation.
Special counsel Robert Mueller is continuing to probe Trump-Russia.
Today's question: Is a second special counsel needed to investigate the Clinton email investigation?
Please email us at trumpsamerica@mic.com with your thoughts.
About last night: Jeff Sessions won't appoint special counsel
Attorney General Jeff Sessions announced Thursday afternoon that a special counsel is not needed to probe the FBI's handling of the Hillary Clinton email investigation, nor the FBI's investigation into the Trump campaign.
"Pursuant to Department of Justice regulations, the appointment of a special counsel, by design, is reserved for use in only the most 'extraordinary circumstances,'" Sessions wrote in a letter to three Republican members of Congress, adding that the current circumstances do not warrant an appointment of a special counsel.
Instead, Sessions said he has instructed U.S. Attorney John Huber to work with the Justice Department's inspector general, which is already looking into the handling of those investigations. Huber, who was appointed by former President Barack Obama and renominated by Trump, will work with DOJ Inspector General Michael Horowitz on the ongoing investigation into how the FBI handled the Clinton email investigation.
Conservatives, however, are outraged that Sessions did not appoint a special counsel.
"Mr. Sessions, what's it going to take?" Rep. Jim Jordan (R-Ohio) told Politico. "I'm hopeful this is just one last step Jeff Sessions wants to take before he realizes the obvious, which is there needs to be a second special counsel."
Today in Trump's America: Shulkin tells his side of the story
Many Trump officials and staffers have left the White House, either because they were fired by Trump or resigned after growing tired with the chaotic environment. But none have spoken out quite like Shulkin, the Veterans Affairs director who was fired Wednesday.
Shulkin penned an op-ed in the New York Times, defending his tenure and slamming Trump for making it difficult to serve.
And Shulkin continued speaking out Thursday night, telling MSNBC that Trump had actually called him on the day of his firing and acted like everything was status quo.
"I spoke to the president yesterday," Shulkin told MSNBC's Chris Hayes. "We spoke about the progress that I was making, what I needed to do from a policy perspective to make sure that we are fixing the issues in VA. Very focused. He was very inquisitive about the things we were working on, making sure that we were focused on the job at hand."
Shulkin told Hayes that conversation happened before he was fired, and that there was nothing on the phone call that led him to believe his firing was imminent. He added he only learned he had been fired right before Trump's tweet announcing changes in VA leadership.
"Right before that, the Chief of Staff [John] Kelly gave me a call, which I appreciated, gave me a heads-up .... but that was much after the phone call," Shulkin said.
Trump has yet to respond to Shulkin's comments.
Capitol Hill happenings: All's quiet
Congress ended its first week of the Easter and Passover recess. Both chambers will remain on recess next week as well.
I hope all of those celebrating this weekend have a great holiday.
And the rest…
Open the Gates: Despite Trump's many assertions that there was no collusion between his campaign and Russia, Mueller is probing whether Trump's campaign colluded with the foreign country that was meddling in the 2016 presidential election. CNN reported Thursday that Mueller sought cooperation from Trump campaign aide Rick Gates on the collusion question. Gates pleaded guilty to two charges in February and is cooperating with Mueller.
Hope floats: White House communications director Hope Hicks has officially left the building. White House aides worry what the West Wing will be like now that Hicks is gone.
Sorry: Fox News host Laura Ingraham apologized to Parkland, Florida, shooting survivor David Hogg for bullying him online — but only after advertisers began to flee.
Eye for an eye: Russia expelled 60 American diplomats and closed an U.S. consulate in a retaliatory move after the U.S. expelled the same number of Russian diplomats earlier this week. The move by the U.S. was in response to the Russian poisoning of an ex-Russian spy in the U.K.