School resource officers have abused black kids for years. Some Parkland teens want more of them.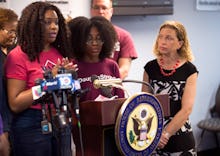 Four black students at Marjory Stoneman Douglas High School in Parkland, Florida, told reporters Wednesday that their voices and concerns have been overlooked amid the March for Our Lives, the student-led movement calling for gun control reform that emerged after 17 people were killed in a mass shooting at the school Feb. 14.
Black students make up 11% of the Stoneman Douglas student body. The four students who hosted the press conference — Tyah-Amoy Roberts, Kai Koerber, Mei-Ling Ho-Shing and Brandon Dasent — were vocal about pursuing conversations about police brutality and gun control within the movement. They also pushed back against proposals from Florida Gov. Rick Scott and journalists at their own school newspaper, the Eagle Eye, to increase the presence of resource officers at high schools.
"The over-policing of our schools may cause more cases of racial profiling," Koerber, a 17-year-old junior, said in an email interview with Mic. "The over-escalation of minor situations may lead to school staff not being able to handle [and resolve] minor arguments between students."
Koerber was alluding to both the long history of excessive policing of black and brown students in American schools and the inaction of the lone Stoneman Douglas school resource officer who was on the scene during the shooting.
"The police may interject and there may be unnecessarily harsh disciplinary action taken," Koerber said. "The police didn't do their job to prevent this tragedy, so there is no reason why we must be subject to the new dictations they make in the name of our safety."
Tyah-Amoy Roberts, another 17-year-old junior who spoke at the press conference Wednesday, echoed Koerber's concerns.
"We [want to] let people know that you can have both ... conversations at the same time," Roberts said in a phone interview.
Ahead of last weekend's worldwide gun control demonstrations, student reporters at the Eagle Eye guest-edited the March 23 issue of the Guardian. They took the opportunity to outline their own manifesto, which included a call for increased government funding to pay for additional school security, including more resource officers.
"Without backup, this officer's hesitation proved to be disastrous and allowed for the senseless deaths of people who were killed on the third floor of the 1200 building," the manifesto states.
Rebecca Schneid, the paper's co-editor in chief, wrote to Mic via Twitter direct message that the Eagle Eye did not speak for the March for Our Lives movement as a whole:
"It was created as solely the views of the Eagle Eye newspaper, nobody else," she wrote of the manifesto.
Koerber and his fellow students' concerns are backed by statistics that show disciplinary issues involving black and brown kids are often dealt with differently than those involving white students. During the 2013-2014 school year, black students made up 25% of students without disabilities referred to law enforcement by their schools, but made up just 15% of public school attendees, according to the U.S. Department of Education's Civil Rights Office.
White students, on the other hand, made up 50% of public school students, but just 38% of those without disabilities referred to law enforcement. The process by which these referrals take place can turn violent, particularly for the non-white students. In November, a Jefferson Country, Kentucky, officer used a stun gun on a Jeffersontown High School student after a fight broke out among students. In 2015, a school resource officer at Spring Valley High School in Columbia, South Carolina, slammed a black female student to the ground and dragged her across the floor after she refused to obey his orders to get up from her desk.
Excessive policing happens to younger students, too. In 2012, Salecia Johnson, a 6-year-old student at Creekside Elementary School in Milledgeville, Georgia, was handcuffed and taken to a police station by an officer after she had a temper tantrum.
On Feb. 23, just over a week after the Parkland shooting, Florida Gov. Rick Scott proposed there be at least one law enforcement officer in every public school, along with one school safety officer for every 1,000 students, by the next school year.
The March for Our Lives organizers listed five demands on their website, including funding gun violence research and gun prevention-intervention programs; enforcing universal background checks; banning high-capacity magazines; and limiting high-powered weapons to for military use only. They also include granting more power to the Bureau of Alcohol, Tobacco, Firearms and Explosives to regulate the gun industry. Absent from the demands is many of the fact that an empowered law enforcement agency often spells disaster for black people, who are far more likely to be shot and killed by police than white people.
Roberts, the Douglas High junior, said when her classmates return to school next week after spring break, she wants them to come together and have a broader conversation about black and brown students' concerns in the context of the movement's demands and proposals.
"I would not say they are being exclusive on purpose," Roberts said. "But I feel like this week we talked about [the lack of black student representation] for long enough that we could actually be able to sit down with our peers and have this conversation, and talk about how to be more inclusive."