Milo Yiannopoulos shutters his "privilege" charity for white men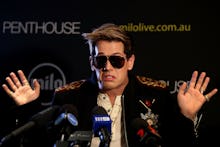 In January 2016, right-wing provocateur Milo Yiannopoulos announced his "Privilege Grant," a charity he set up to give college scholarships to white men. The race baiting media stunt saw donated funds reportedly sit in the author and former Breitbart editor's personal accounts, as questions piled up about the legality of the endeavor.
And now, the scholarship is dead.
At first, Yiannopoulos claimed to have raised between $100,000 to $250,000. On Thursday, after allegedly giving away just $25,000, Yiannopoulos confirmed to NBC News that the grant fund is no more. The former website of the Privilege Grant no longer exists, and Yiannopoulos made no further announcements about what will happen to the leftover money, i.e. if he has it, or if it ever even existed.
Mic reported several times on the Privilege Grant and Yiannopoulos' failure to distribute the funds donated for the scholarship. As college semesters went by, Yiannopoulos spent 2016 claiming he would set up a website and begin taking applications, even as Canadian right-winger Margaret MacLennan, who he brought on to help him, insisted the money had been wired to Yiannopoulos' own bank account. As 2017 approached, Yiannopoulos created a website and put out further promises to administer the funds.
In March 2017, the Privilege Grant released the first names of 10 purported recipients of $2,500 grants. Whether these are in fact real people, however, is being questioned. As NBC News pointed out Thursday, Yiannopoulos and those working on the project have never verified the identity of a single recipient, and no recipient has ever come forward publicly to vouch for their existence.
Yiannopoulos has an apparent habit of disappearing money he's promised to others. Long before his mainstream fame as an anti-Islam activist, he ran a blog called the Kernel, where he eventually owed over £10,000 to its contributors. Eventually, his company Sentinel Media drew the attention of the criminal investigations arm of the U.K.'s Information Commissioner's Office for failing to register correctly.
Mic reached out to Yiannopoulos for comment on what became of the rest of the Privilege Grant funds, but didn't receive a response.