While you weren't looking: 5 stories from the Trump administration that aren't about Roseanne Barr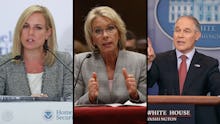 This has been quite a typical week in White House news, which included the firing of a high-level administration official; a spate of intrigue about President Donald Trump's silence on his alleged affair with Stormy Daniels; some cryptic developments in Robert Mueller's special counsel inquiry; and, of course, a wholly unrelated flashpoint in the culture war thanks to Trump's praise of '90s television icon Roseanne Barr.
As the news cycle followed its typical pattern, the Trump administration continued to make a number of significant or bizarre policy changes and scandalous missteps that might have been front-page news in any other administration.
Here's what you might have missed.
Scott Pruitt lived in a condo co-owned by an energy lobbyist's wife
When Scott Pruitt was first nominated to lead the Environmental Protection Agency, many Democrats and environmentalists groaned about his well-documented ties to the energy industry.
Those concerns grew as Pruitt began taking unprecedented steps within the EPA to keep his conversations secret, including the installation of a $25,000 soundproof booth — in a project that actually cost around $43,000 — in his Washington office.
But those concerned citizens can now breathe a sigh of relief. As it turns out, Pruitt isn't really going out of his way to hide his connections to powerful figures in the industry he's tasked with regulating. In fact, he's living in their homes and paying them rent.
Bloomberg reported Thursday that for a period of several months in 2017, Pruitt lived in a condo co-owned by Vikki Hart, the wife of noted energy lobbyist J. Steven Hart.
Pruitt paid $50 per night to stay in the apartment, according to ABC News, and reportedly made the arrangement directly with J. Steven Hart without the aid of a real estate broker, raising concerns about whether the rental constituted a prohibited gift.
EPA ethics counsel Justina Fugh called the arrangement "a routine business transaction and permissible even if from a personal friend."
Trump bans government funding for big oil (paintings)
Trump on Wednesday signed into law a bill banning the use of government funds for the commission of oil paintings.
The Eliminating Government-Funded Oil Painting Act is intended to curb wasteful government spending by eliminating funds previously reserved for the cost of painting portraits of elected officials. Unsurprisingly, the federal government does not actually spend a significant portion of its budget on oil paintings.
Sen. Bill Cassidy (R-La.), the bill's lead sponsor, thanked the president for signing the bill in a tweet, noting that he "came to Congress to cut wasteful spending."
The federal government has spent hundreds of thousands of dollars on these portraits since 2018. In contrast, the federal government spends close to $15 billion in annual subsidies for actual oil companies, despite the fact many of those corporations are incredibly profitable.
The move represents something of a reversal for Trump. Prior to taking office, the former businessman was a proponent of using taxpayer money to buy portraits, having once used his tax-exempt charity to purchase a $20,000 6-foot-tall painting of himself.
Homeland Security wants to deny legal residency for immigrants using tax credits
The Department of Homeland Security has drafted a policy that would deny legal U.S. residency to immigrants who "accept almost any form of welfare or public benefit, even popular tax deductions," the Washington Post reported Wednesday.
A draft proposal obtained by the Post would penalize immigrants for using common tax subsidies, like the earned income tax credit or health insurance subsidies under the Affordable Care Act.
Current law already imposes these kinds of penalties for immigrants who receive cash welfare payments, but the new rules would extend to the myriad of non-cash benefits many citizens and non-citizens currently receive.
The proposal would also force immigrants to "post cash bonds if they have a higher probability of needing or accepting public benefits," according to the Post. The minimum bond amount would be $10,000.
The office in charge of vetting White House staff is understaffed
On the campaign trail, Trump famously boasted he would surround himself with "the best and most serious people" upon taking office, a pledge that has been undermined by various scandals and the administration's high turnover rate.
It now appears Trump may have even more problems finding the "best people." A new report from the Washington Post details how the Presidential Personnel Office, the office in charge of vetting thousands of political appointees across the government, is itself understaffed and riddled with inexperience.
According to the Post, two PPO leaders have between them arrests for drunken driving, bad checks, assault, disorderly conduct, resisting arrest, fleeing an officer and underage drinking.
The PPO also has considerably less staff than it did under previous presidents. Many people currently working there are former Trump campaign staffers in their 20s and officials in the process of transitioning to other jobs. One senior staffer working there "has had four relatives receive appointments through the office," the Post reported.
As Trump continues to clean house across his administration, one would think the PPO would be a good place to start. But, to paraphrase the Roman poet Juvenal, who will vet the vetters?
Betsy DeVos forces teachers to pay back thousands of dollars in grant money
Betsy DeVos' Department of Education has been accused of converting into loans thousands of grants paid to teachers across the country, according to a report from NPR.
For the last 10 years, the government has offered grants of up to $4,000 a year to certain college students willing to teach at lower-income schools. But a government survey obtained by NPR suggests many of those grants were turned into loans, forcing students to pay back the money — with interest — for reasons as minor as paperwork errors.
Several teachers told NPR they either never received the necessary paperwork to certify they were meeting the grant program's teaching requirements or that the company hired by the DOE to file said paperwork claimed to have never gotten it.
According to the survey, a third of program participants whose grants were switched to loans said they were "likely or very likely to meet the program's service requirements — or had already met them."